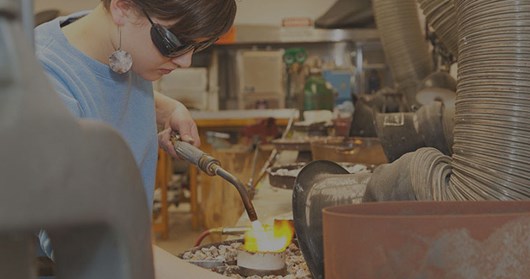 We've been training the next generation since 1300
The Goldsmiths' Company has a long history of binding apprentices across the whole trade.  Read more here. It continues to play an important role in support of the craft and industry, funding apprenticeships to the trade.  Each year we bind young people to a Master in a traditional ceremony at Goldsmiths' Hall.  
Apprenticeships take place across all aspects of the industry - diamond mounting, spinning, burnishing, engraving, silversmithing to name a few.  
Apprentices in the past were given day release to obtain qualifications (based predominantly on silversmithing) to widen their skills. Now the Goldsmiths' Centre supplies this part of their training. They also offer specialist short courses to post-graduates, and top-up courses to expand knowledge. 
Our current team at the Assay Office comprises of many past apprentices.  
Furthermore many of our Management Team began their careers within the Assay Office as apprentices training together. Their combined experience, shared history and their aligned progression is invaluable to the overall team, and a unique part of the quality of our service.  It is a very special combination, each having gone through the same processes and training. 
Candice Devine 
Training Officer and Assay Office Assistant 
"I started at the Goldsmiths Assay Office London in 2011 as an Apprentice. I finished my GCSE's and I knew I wanted to work in the jewellery and silversmithing trade. During my Apprenticeship, I learnt lots of different skills for each department. I started learning the traditional methods of sampling on the touchstone, as well as new technologies such as X-ray Florescent Spectrometry and Laboratory testing. I went on to Hand marking, learning how to hand mark small items of jewellery to large display marks on silverware. I learnt how to hallmark and laser engrave on the laser machines, which we have had two new types of laser machines since I started. I have also worked at our sub-offices; Allied in Shoreditch, Greville Street in Hatton Garden, and mostly Graff Diamonds in Bond Street.
Throughout my apprenticeship, I was lucky enough to go on a day release at the Goldsmiths Centre, learning different skills in the trade. I really enjoyed my day release as this taught me how much time and effort goes into making items to send to the Assay Office. This made me more careful when marking each piece, as we want to get it right for our customers after all the hard work that has gone into making that item.
At the end of my apprenticeship, I had to make a Masterpiece which I wanted all my skills combined. I choose to hand engrave a set of playing cards, laser engraving the backs of each card. I also hand made a silver box and basket using my silversmithing skills for the cards to sit in, which I hand struck myself. (See image in carousel below).
After my apprenticeship, I was made Freeman of the Company and Freeman of the City of London, and I was assigned to the Specials Team. I really enjoy being on the Specials Team, as I enjoy marking big silverware with large display marks by hand and laser.
Last April, I took over as Training Officer when my Master David Merry retired. I am very proud to train the apprentices, and teach them everything I was taught throughout my own apprenticeship.
My biggest achievement was making my Masterpiece at the end of my apprenticeship, and entering the Crafts and Design Competition. I won two Bronze awards, which was a big achievement for myself and the Assay Office. The Assay Office is not known for making items, so was really amazing to be up against people who work full time making jewellery and silverware and to win two awards. I also feel very proud to be Training Officer, teaching everything I know to be handed down to future generations.
A typical working day for me is to set my apprentice up with a task which could be sampling, hand marking or laser marking, and then to see if I'm needed on hand marking or laser marking on the specials team. I enjoy mixing the day up, so I really enjoy working on the special's team between hand and laser.  Throughout the day, I sit with my apprentice and go through with him on how to improve, setting him new tasks and teaching him new skills and techniques.
My top tip for customers would be to fill in your hallnotes properly by explaining where you would like the hallmark, what size hallmark, hand struck or laser mark and what orientation you would like the hallmarks to be in. This is very important when marking each packet as we want to get this right. This could delay your packet if we are unsure."
Dave Merry worked at the Assay Office for 47 years. He began as an apprentice here himself and retired as Training Officer and Trading Standards Liaison in 2019.  In this video filmed at the Trailblazer Reception in Elstree Studios in 2015, he discusses his experiences.