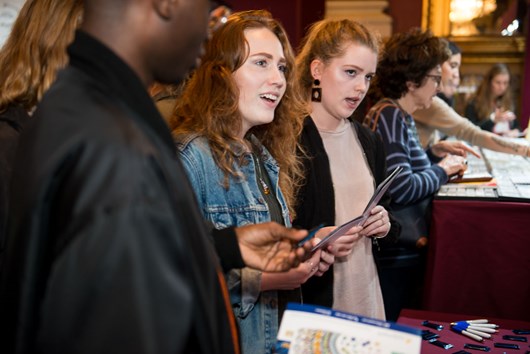 On 31st October and 1st November, London's Goldsmiths' Hall will host the UK's biggest careers event for apprentices and students of jewellery and allied trades. Following the huge success of the events in 2014, 2015, and 2016 the event will deliver even more inspiration, advice and networking opportunities.
Make Your Mark is a completely free tutor–student event open to apprentices, and anyone studying on a UK-based precious-metal-related course (full- or part-time) whether at degree level or on a short adult education or private tutored course.
Led by the Goldsmiths' Company Assay Office, and supported by the Goldsmiths' Company and the Goldsmiths' Centre, the event will provide a packed programme of inspiring talks from leading figures in the trade, live demos, an exhibition of entries into the Make You Mark Award, careers advice and much more besides.
Key elements of the event will include: 
A wide range of exhibitors offering advice and guidance
Live demonstrations including diamond cutting, hand engraving and stone setting
Stalls selling books, stones, bullion, tools and much more
A tour of the Goldsmiths' Company's renowned library
Make Your Mark Surgery Sessions – run by Facets PR, this is your chance for face to face advice with experts
Make Your Mark Awards - an exciting design competition that aims to challenge today's students working in precious metal. Prizes will be awarded to the most artistically convincing design, model or finished piece in which precious metal is used with prominence, and where a London hallmark is part of the design. More details to follow....
The Goldsmiths' Company Assay Office is offering all students attending an exclusive Laser Hallmarking Package for free. This unrivaled package comprises of a ten year registration and laser software set-up in preparation for laser hallmarking.  (Please note, this offer is for new registrants only).
Experts from the Goldsmiths' Company, Assay Office and Goldsmiths' Centre will also be on hand to offer friendly advice on hallmarking, internships, grants, and training opportunities.
For more info, email info@assayofficelondon.co.uk  or Tel. 020 7606 8971.
Dr Robert Organ, Deputy Warden of the Goldsmiths' Company Assay Office, commented "At the Goldsmiths' Company, part of our ethos is to encourage and assist people to enter the trade, whether it is through educational workshops, visits to colleges, free Library support, precious metal bursaries or apprenticeships. Underlining this support is Make Your Mark. This is the fourth consecutive year that we have run the event - each year we welcome newcomers to the trade who need help with their very first steps, but its success and popularity has also seen attendees return year upon year.

At the Goldsmiths' Company, we are very proud to show off our heritage and traditions to the next generation as they are the future of our trade. Our authority and history can be sometimes appear daunting, but we welcome everyone with open arms and aim to cement a lifelong relationship with us. No better way of doing this is the offer to register their own sponsor's mark so they can start to hallmark. This is an important and memorable point in any budding goldsmith's and silversmiths career."
Read more about our Student Support here.