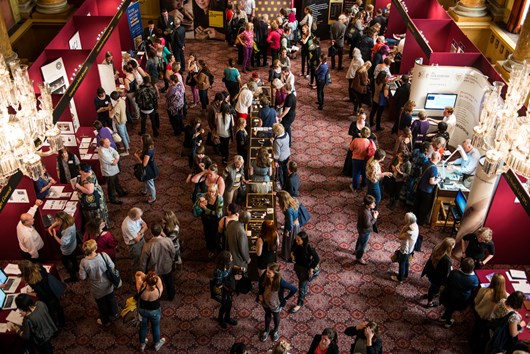 Please Note: due to the COVID-19 pandemic our Make Your Mark event is postponed until further notice. 
We apologise for the inconvenience and will inform you when a new date is set for this event.
Thank you for your continued support and we hope to see you at our next event in the future.

On the 15th of June 2020 Make Your Mark will be returning to Goldsmiths' Hall. The event remains the UK's biggest careers event for apprentices, students and graduates of jewellery and allied trades. Since its launch in 2014, Make Your Mark has proved a huge success and promises to deliver even more educational advice and networking opportunities.Make Your Mark 2020:
Make Your Mark is a completely free tutor–student event open to apprentices, and anyone studying on a UK-based precious-metal-related course (full or part-time) whether at degree level or on a short adult education or private tutored course.
Led by the Goldsmiths' Company Assay Office and supported by the Goldsmiths' Company and the Goldsmiths' Centre, the event will provide a packed programme of inspiring talks from leading figures in the trade, live demos, a packed exhibition, careers advice and much more besides.
Other key elements of the event will include:
A wide range of exhibitors offering advice and guidance
Live demonstrations including diamond cutting, hand engraving and stone setting
Stalls selling books, stones, bullion, tools and much more
A tour of the Goldsmiths' Company's renowned library
Make Your Mark Surgery Sessions – this is your chance for face to face advice with experts
As part of the event, the Goldsmiths' Company Assay Office is offering all those who attend an exclusive Hallmarking package for free. This unrivalled package comprises of a ten-year registration, punch and laser software set-up meaning to enable both methods of hallmarking. 
Experts from the Goldsmiths' Company, Assay Office and Goldsmiths' Centre will also be on hand to offer friendly advice on hallmarking, internships, grants, and training opportunities.
For any questions or queries, or to learn more about the event, please don't hesitate to contact charlotte.turner@assayofficelondon.co.uk