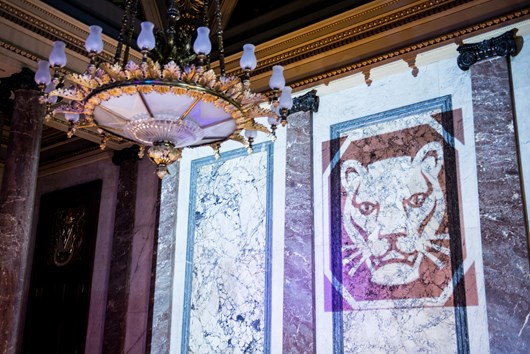 You are invited to submit your entry to the Make Your Mark Awards, a competition designed to celebrate the London Hallmark 
At our Make Your Mark event on the 5th February 2019, we will be presenting awards for both finished pieces or design drawings of jewellery and silverware items that best celebrate the London hallmark. This competition is open to recent graduates, apprentices and current students with both cash prizes and unique career enhancing opportunities available. Award winners will also have their work displayed at Goldsmiths' Hall during the Make Your Mark event - and receive a special certificate.
Deadline for entries:  FRIDAY 11 JANUARY 2019 
Needs Adobe Acrobat.  Please save a copy of this document to your computer before sending. You will receive acknowledgement within 24 hours.


Who can enter?
There will be two entrance categories
1. Members of the craft and industry who completed their training within the last five years: apprentices, trade
makers, designer makers.
2. Current full or part-time students and apprentices on a precious metal related course or 3D design-led course specialising in precious metal related products.
Criteria
– Design or make a piece in precious metal that celebrates the London hallmark
– Comply with the Hallmarking Act 1973, click here.
– Exhibit originality and aesthetic appeal
– Demonstrate excellence in craftsmanship and/or design.
Entry guidelines

1. The entry must either be hallmarked or show a clear indication of the intended placement of the hallmark.  This can be purely indicative, e.g. 'x', or an illustration of the components.
2. If relevant to the design, entrants can indicate the method of marking (laser or struck), size (0.5mm to 6mm), and configuration of the hallmark elements within their design.  For more information please read through the website website.
3. Entrants can include a written statement giving the reasoning behind their design.
4. Entries must be one of the following:
– Design drawing (maximum size A2)
– Printed CAD design/render (maximum size A2)
– Base metal prototype
– Finished piece in precious metal
– Photograph
  We will acknowledge receipt of your application within 24 hours. If you do not hear from us please email makeyourmarkawards@assayofficelondon.co.uk 
Prizes available
The winner of each category will receive £1,000. Runners up will receive £500 (2 x £250). 
There will also be other prizes including exclusive career enhancing opportunities including a 1:1 workshop tour and portfolio review with Bobby White, and a 1:1 design studio tour and portfolio review with Liz Olver, Design Director of Annoushka.
All will receive a Dream Plan Do business planner by the Design Trust. 
Prizes will be awarded at the discretion of the judges.
Details
11 January 2019 - Deadline for entries
14 January - Entries shortlisted (we will let you know whether you have been shortlisted by 18 January).
21 January - Deadline for shortlisted work to be delivered to Goldsmiths' Hall 
5 February  - Awards results will be announced at the Mark Your Mark event at Goldsmiths' Hall
For full terms and conditions, please refer to our general T&Cs.
– Shortlisting of entries will take place at the discretion of the judging panel. The judges' decisions are final.
– Further details will be sent to all shortlisted entrants nearer the time.
– Date for collection/return of entries will be confirmed.
– Those shortlisted are responsible for the delivery and associated costs for delivery to Goldsmiths' Hall.
If you have any questions, please email: makeyourmarkawards@assayofficelondon.co.uk

GOOD LUCK!