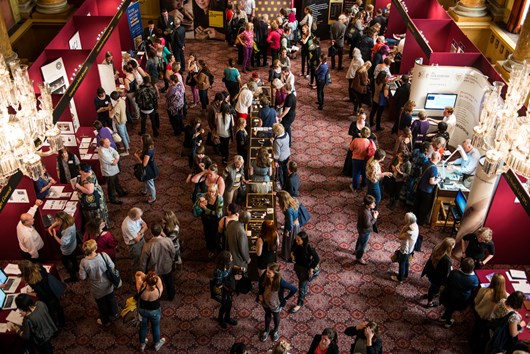 Who to see at this year's Make Your Mark
Argentium Silver
Argentium silver is a tarnish resistant fuseable silver alloy which has some amazing properties.  The alloys are patented and trademarked and allow users to expand their creative abilities and to access internationally acclaimed marketing support to help promote their designs.  Come and visit the stand and see what sets Argentium apart from Sterling silver.
t:   0845 209 7097

Association for Contemporary Jewellery
The ACJ promotes the artform, supports the makers and engages educators, students, collectors & curators of contemporary jewellery. 2017 is our 20th anniversary.
We have a brilliant network, we host various events and run yearly exhibitions. Members get excellent discounts on bullion and supplies. Membership is £25 for students and graduates.
t: 0117 966 0107
w: acj.org.uk

Bellore Rashbel
Based in London's Hatton Garden, Bellore Rashbel is a major supplier to the jewellery industry. We offer a wide range of bullion, silver decorative strips, semi-precious beads and stones, precious metal findings, tools and machinery. Students who register with us get 10% discount on most items.
t: 0207 404 3220

Benchpeg
Benchpeg has been supporting the work of the jeweller for over ten years. We assist with recruitment needs, sharing the latest news stories and promoting exciting opportunities. Our website and newsletter have an international audience spanning all levels of the trade. We say, "it takes a village to make a community".
w: benchpeg.com

Contemporary British Silversmiths
Contemporary British Silversmiths is the leading association for contemporary silver in the United Kingdom. It is a membership organisation set up to inspire creativity and promote excellence in design and craftsmanship to new audiences nationally and internationally. We have an excellent support & mentoring network for recent graduates.
t: 0117 966 0107
w: contemporarybritishsilversmiths.org
e: info@contemporarybritishsilversmiths.org

Cooksongold
Cooksongold is the UK's largest one-stop shop for all jewellery makers with over 17,000 products, including bullion, tools, findings, chain, gemstones, clay, base metal and much more. They are also stockists of the industry's biggest brands such as Durston, Busch, Vallorbe, Swarovski, Beadalon, Dremel, PMC, Art Clay and more.
t: 0345 100 1122

GIA
An independent non-profit organisation, GIA is recognised as the world's foremost authority in gemmology. Established in 1931, GIA has translated its expert knowledge into the most respected gemmological education available. GIA's London Campus, a UK Registered Charity, is part of the network of global campuses.
w: gia.edu/UK-EN/gem-education/london 

Goldsmiths' Craft & Design Council
The Goldsmiths' Craft & Design Council (GCDC) is a flagship organisation that continues to promote & support skills across every aspect & activity in the industry. The Council achieves this primarily through its annual competition, abiding by its original remit & central aim; to promote & enhance excellence in craftsmanship & design.
Brian Hill, Consultant Secretary
t: 01233 720 067
w: craftanddesigncouncil.org.uk
e: brian.hill@craftanddesigncouncil.org.uk

H.S.Walsh & Sons Limited
Suppliers of jewellery tools, jewellery equipment, jewellery findings, clock material, clockmakers tools, watch material and watchmakers tools. Walsh have been the leading suppliers of tools and equipment to the jewellery and horological trades for more than 70 years. 
t.: 01959 543660
w: hswalsh.com

Hand Engravers Association
Hand engraving is the embellishment of precious objects using traditional hand tools. The Hand Engravers Association was formed to raise the profile and preserve the skills of this specialist craft through education and training.  We organise short courses, events and demonstrations in hand engraving.  Follow us on Facebook to find out more.
t: 01732 301821 (Sally Dodson)

iMakr 3D Printers for Jewellery
iMakr is now the world's largest independent 3D printing store. We offer the best quality 3D printers thanks to our expert team of engineers who test and approve each product that hits the shelves. We offer training, maintenance and repair. The future of jewellery design and manufacture is here.
Jim McLernon
t: 020 7247 4095
w: imakr.com

Just Castings Ltd
Just Castings was founded in 1964 and is a family-run manufacturing business that specialises in casting & finishing in both base & precious metals. Over the years we have evolved to provide a wider variety of services such as 3D CAD/CAM, plating, stone setting, restoration polishing & finishing.
t: 020 7404 1688

Marcia Lanyon Ltd
Marcia Lanyon Ltd, in West London and in Hatton Garden, is one of the UK's premier wholesalers of coloured stones, beads and pearls to the Jewellery Trade including jewellery students. Their wide ranging stock is constantly updated with many unusual and unique pieces to help their customers to create truly inspirational collections.
Nancy Hancock and Anja Moehlert
t: 020 7602 2446

Microset Tools
Microset Tools will have live viewing of micro setting during "Make Your Mark". As demonstrated by Ian McLeod, bringing with him his knowledge and experience from his time at Theo Fennell and Graff Diamonds. Show casing expert tips, tricks and tools needed to set gemstones microscopically.

Monnickendam Diamonds
Monnickendam Diamonds - international suppliers of polished diamonds: rounds (0.70mm upwards in 0.05mm increments) and fancy-shapes to 5ct+, single stones or parcels, plus an extensive GIA inventory.  Additional services include: cutting clients' rough, repair, re-cut, trim polished diamonds. All diamonds are ethically sourced in strict adherence to Kimberly Process and Best Business Principals.
t: 020 7242 23333

Potters 
Potters have been closely associated with the jewellery trade now for some 78 years, supplying presentation and promotional packaging, inspirational displays and simple and effective pricing products. We continue to strive to supply not only a first class product range but also a service based on integrity, commitment and experience.
t: 01553 780850

Presman Mastermelt
Originating in London's Hatton Garden and offering the jewellery industry a complete service for workshop waste, lemel and scrap processing , as well as the chemical removal of diamonds from diamond set products Presman Mastermelt prides itself on being faster, friendlier and more transparent in all transactions. The company is ISO accredited and independently audited to ensure consistently high levels of service.
t: 0207 400 3400
f: 0207 405 8053
e: simmonewesterman@mastermelts.co.uk 

S.E.W. Ltd - Private Tuition
Master gold-silversmiths private tuition classes in the heart of Hatton Garden.  Steve Wager was an apprentice at crown jeweller Asprey, Bond Street and became Master silversmith for 25 years.  He established S.E.W.L.td in 2003 and was head lecturer and tutor at Sir John Cass.  He started private gold-silversmithing classes in Hatton Garden in 2011 for us to 36 students a week.
t: 0207 404 7154
t: 07956 240352
w: sewltd-gold-silversmith.com

Stephen M Goldsmith, Master Polisher
Stephen M Goldsmith is a Master Polisher of over 45 year's experience, formerly with Asprey & Garrad and the society jeweller, Theo Fennell.  Stephen is a fellow of the IPG, and one of the most respected jewellery and silver polishers. He is currently teaching polishing across Europe and is known affectionately as "The Gold Polishing Guru".  

T H March
Chartered Insurance Brokers.  Established in 1887 and recognised as the UK's foremost broker to the UK jewellery trade.  Trusted insurance broker of choice to leading UK jewellery and allied trade organisations.  Jewellery Designer Maker policies suitable for start-up and young businesses.  Commercial and personal insurances. 
t: 01732 462886
w: jewellerydesignermakers.co.uk
e: louise.rae-raynor@thmarch.co.uk

The National Association of Jewellers
The National Association of Jewellers (NAJ) are the trade association representing the UK Jewellery Industry. Our professional development courses help students to build a strong foundation in the jewellery industry by providing a unique overview and enhancing their knowledge in key areas.  
w: naj.co.uk

Wax-Masters Ltd. & Simply Rhino Ltd.
Wax-Masters is a design and manufacturing company based in the Goldsmiths' Centre, specialising in wax rapid prototyping and 3D design C.A.D. software. Wax-Masters prides itself on producing high quality directly castable waxes, and offers 3D modelling and rendering services, alongside manufacture with its skilled team of award winning designers and craftsmen.
Rhino is one of the most widely used 3D modelling applications in the world and Simply Rhino are the UK's most popular supplier of Rhino3d software and all its key plug-ins. Simply Rhino offer expert developer approved training and full support for all the products we sell. We have frequent scheduled Rhino, RhinoGold, Grasshopper (and more) classes and taster sessions, all of which take place at the Goldsmiths' Centre, London.

Simply Rhino are also an official supplier of the Formlabs Form 2 printer. The Form 2 is a desktop SLA printer engineered for reliability and production of prints from tiny, intricately detailed models to larger prototypes. Simply Rhino have a London Form 2 showroom and will be offering Form 2 Jewellery Demo's on their stand at Make your Mark.   
t: 0208 498 9900
w: simplyrhino.co.uk wax-masters.com 
e: info@simplyrhino.co.uk admin@wax-masters.com