Hallmarking is a simple three step process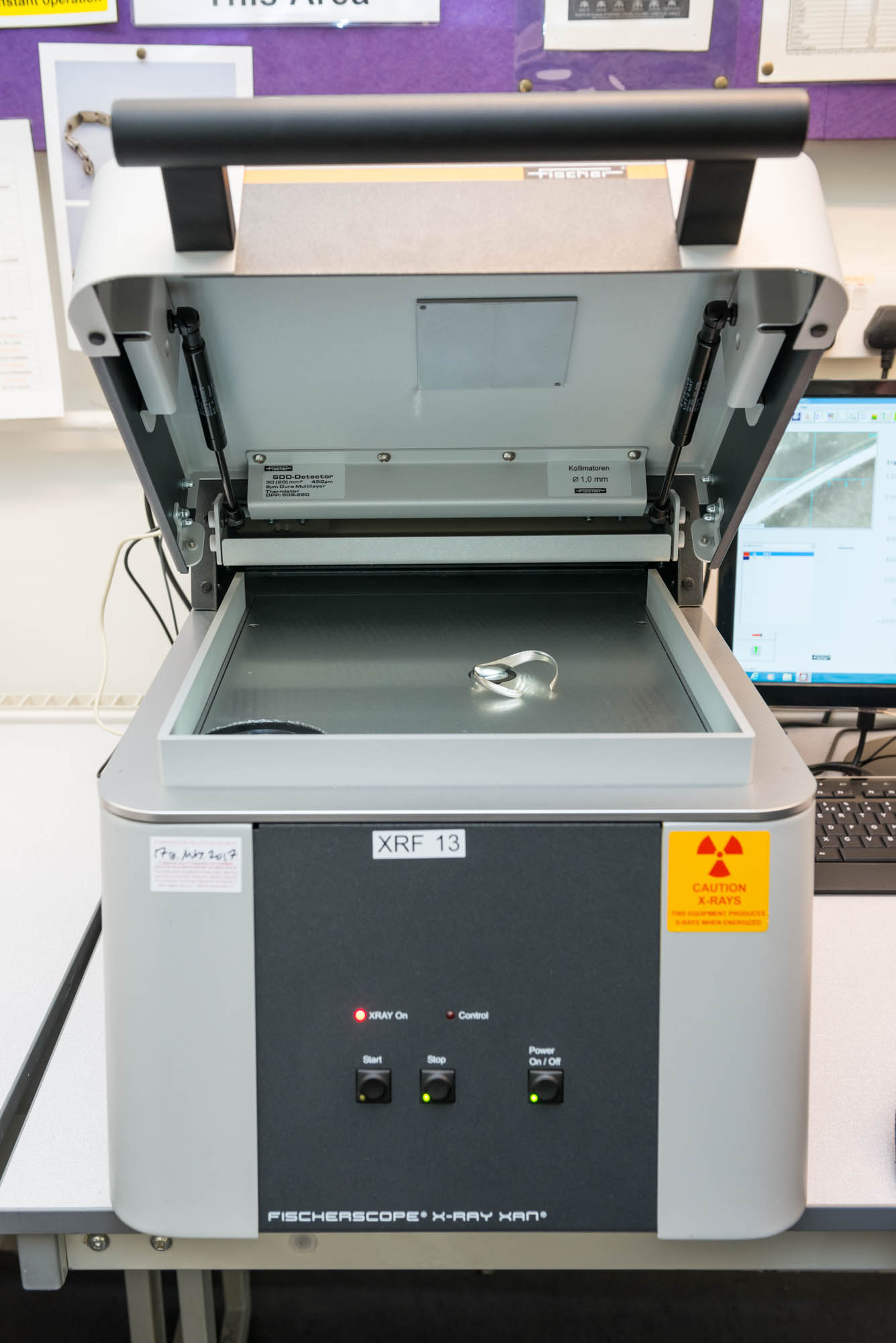 Sampling is the selection of articles from the packets which will then be assayed. This is done according to set sampling rates based on detailed statistical analysis.
Assaying is the analysis of an article's composition. These days the vast majority of assaying is carried out by X-ray Fluorescence Spectroscopy (XRF) which is a entirely non-destructive technique and gives the fineness of the metal in less than 30 seconds.  
Occasionally, traditional methods for assaying are used which include touch stone testing, cuppelation, silver titration, and platinum and palladium testing using the ICP-OES (Inductively Coupled Plasma Optical Emission Spectroscopy).
For all the traditional methods excluding touch testing,  a physical sample must be taken from the article by scraping/drawing. 
Gold cupellation - A 2000 year old

small refining process where the pure gold portion of a gold alloy is separated from the base metals in order to calculate the % gold content overall.
Silver titration - 

Analysis of the pure silver portion within a silver alloy. 

Platinum and palladium testing using the ICP-OES (Inductively Coupled Plasma Optical Emission Spectroscopy).  See more in the video Guardians of Gold below.
Touch testing dates from 500BC. We first used the technique alongside physical removal of sample to determine homogeneity. Still used for big packets. Traditional sampling involves a series of 'touch tests'. In the touch testing process, the articles are lightly rubbed onto a 'touchstone' made from basonite.  This leaves a thin smear of material on the stone. Chemicals are applied to the smear and from the reaction that takes place, an initial indication of the fineness is determined.  This is the origin of the phrase "coming up to scratch". 


 

 

Complex Sampling
We are required by law to test items submitted to us before hallmarking. On occasion items do fail for various reasons meaning, to make sure we are applying the correct hallmark, we must test every single item, then separate them in to the appropriate standards.
If your items fail assay, a complex sampling fee will be applied. This fee is £1 per article (i.e. not including any additional charges), charged in addition.
If you do not wish to incur this additional charge, the items can be returned to you unhallmarked, you will still be liable to pay the original packet fee.
We encourage customers to make sure items are conforming to the Hallmarking Act and are divided into packets according to our Submission Rules. 
Read more about this in our Terms & Conditions, see point 6.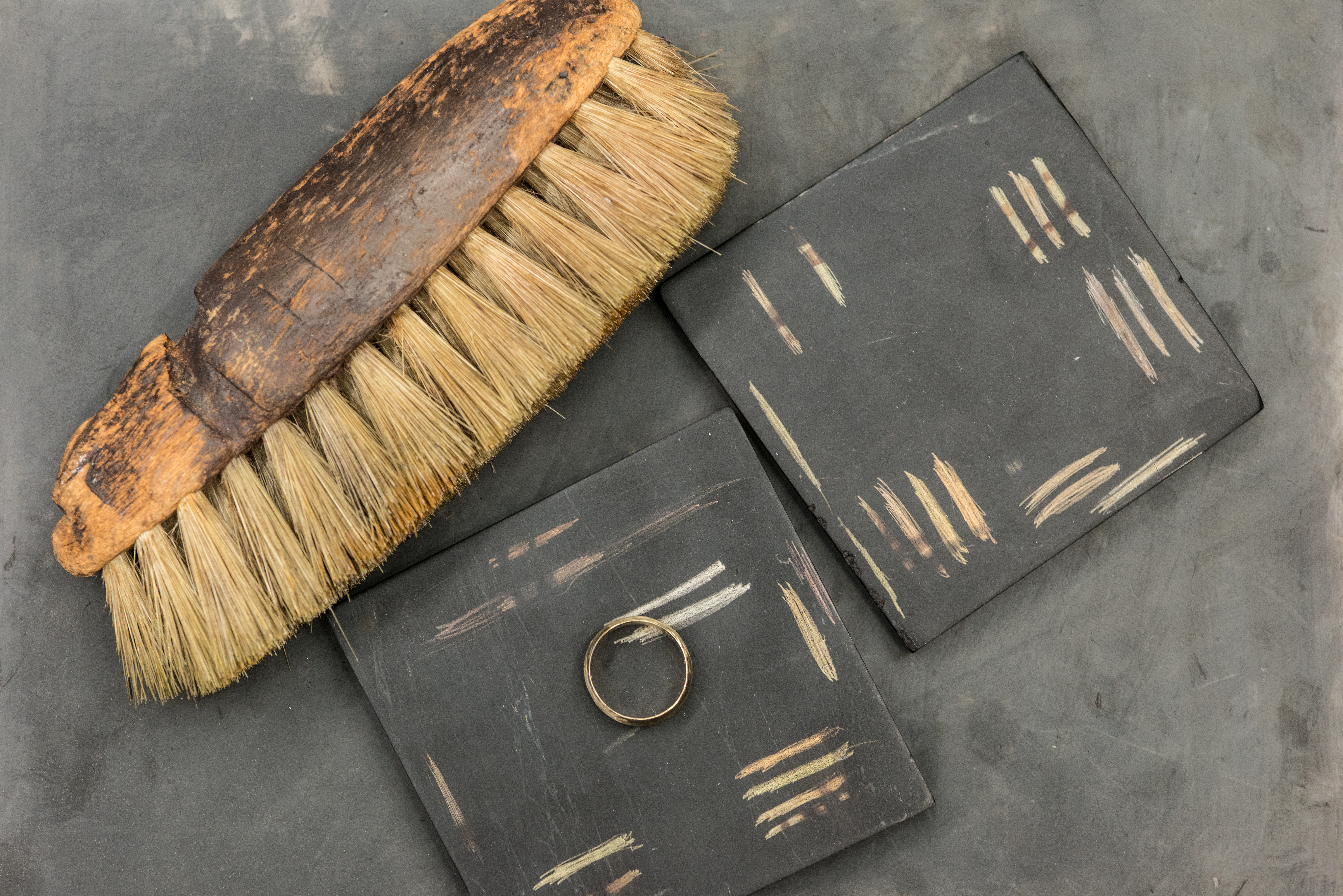 There are Three Types of Marking:
Hand marking: 

Traditional Struck hallmarking by punch and hammer 

Press marking: Traditional fly press or air press marking
Laser marking: the most recent method of applying the hallmark 
Read about Methods of Marking here.
A further guide to the hallmarking process can be found here. 
Once your work is hallmarked, you are part of our trade's legacy and are supporting its permanence.  Congratulations!
Don't forget that every new registrant is offered a free tour of the Assay Office. It is a great way to see behind the scenes of a working assay office.