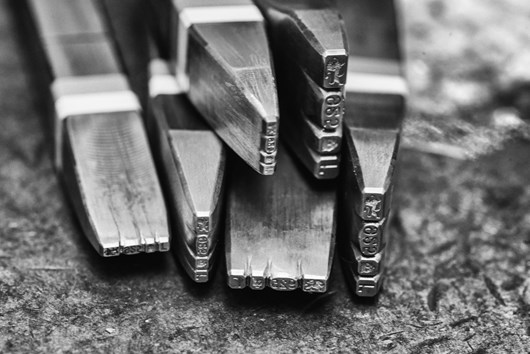 Silversmith Angela Cork presented the awards at Make Your Mark on Tuesday 5 February 2019. She delivered a stirring account of receiving her hallmark for the first time, and how the hallmarks are "a makers signature and a lasting record of each creation". Read a transcript below:
Angela Cork has established her reputation as a designer maker of beautiful bespoke silverware. Her work is original, distinctive and of the finest craftsmanship.
Many of the UK's leading prestigious galleries and exhibitions have shown Angela's work and she is a regular exhibitor at both Goldsmiths Fair and Collect; one of the worlds leading fairs for contemporary applied art. Her work is sought by many private collectors and public collections including The P&O Makower Trust for the National Museum of Wales, Birmingham Museum & City Art Gallery and she has made a number of significant pieces for the Goldsmiths' Company including a Rosewater Dish and a Court Cup.
She has worked to private and public commission for a variety of notable clients including The Financial Times, St Johns College in Cambridge, the Clothworkers' Company, Corpus Christi College in Oxford and most recently, a cutlery setting for the Goldsmiths' Company which is part of a major touring exhibition 'Made for the Table', currently showing at the National Trust's Osterley Park and House.
Angela takes an active role in the industry, speaking regularly about her work and demonstrating her craft to the public. Most recently invited to judge the Schoonhoven Silver Awards run by the Zilvermuseum in the Netherlands and she is the current Chair of Contemporary British Silversmiths.
Thank you Robert and thank you for inviting me to judge this year's Make your Mark Awards. As Chair of Contemporary British Silversmiths I'm delighted to be involved in this year's judging. Supporting the next generation of makers is an important task and one I wholeheartedly support.
 I remember the first time I registered at London Assay Office, it was very exciting choosing the shape of my punch and finally getting my own set of personal marks, and I was so excited to see the struck results on my first piece. When I re-registered after 10 years it was a significant milestone for me and it's been almost 20 years since I got those first punches.
There is a lot of pleasure of learning a craft over time and mastering your material. To have the ability to conceive an idea and make the piece you have designed and finally have the pleasure of selling it to a client, who appreciates all of the many hours of dedication and passion that has gone into creating an object, makes it so worthwhile, and seeing how and where I have decided to place the hallmark is always a delight and surprise.
For the time that I have been practising as a Silversmith I have always found it very interesting to think about how I might use a hallmark to dramatic effect and to finish a piece, taking great joy in choosing the size, placement and display of the marks and deciding whether a piece would suit traditionally struck marks or 3D laser-marks. But always pleased to finish my piece with a set of London hallmarks, knowing that my work follows in the footsteps of all of the great craftsmen and women that have come before us all.
We all know the tradition of assaying a metal for its purity and then marking an endorsement of its quality, the year it was made and applying the makers mark, but it's more than that, one could call the hallmarks a makers signature and a lasting record of each creation, so that the marks that are given will be there for generations to come and tell the history of the piece, and on that note I would encourage you to view the wonderful exhibition downstairs created around the Hallmark by the Curators Department here at Goldsmiths' Hall.
AND NOW ONTO THE BUSINESS OF THE AWARDS
It is a privilege and honour to be asked by the Goldsmiths' Company London Assay Office to judge the MAKE YOUR MARK awards, with my fellow judges, Adam Phillips, Jos Skeates and Bobby White and to make the announcement of the winners and runners up on their behalf.
So what were we looking for when we judged MAKE YOUR MARK? These awards are a chance to celebrate our industry, a chance to encourage YOU, the new generation of Jewellers and Silversmiths, to be both innovative and bold with how you design with the hallmark as an integral part of the piece.
The main brief was for designs and finished entries to celebrate the London Hallmark, to exhibit originality and aesthetic appeal and also demonstrate excellence in Craftsmanship and design.
This year there are two categories for consideration, current Students or Apprentices -and Graduates or Apprentices that have completed their training within the last 5 years. There were a really good number of both finished pieces and design drawings, making the job of judging a difficult task. As you can imagine there was a lot of discussion and consideration given to all entries, about how they fulfilled the brief, and if the designs truly celebrated the London Hallmark.
We were really impressed this year with the strength of the student entries and also the thoughtfulness of using the hallmarks in a striking and celebratory way
The overall winners in both categories will receive £1000 and a portfolio review from Annoushka and Bobby White. Runners up each receive £250.  Plus ALL winners receive a Dream Plan Do business planner recently launched by the Design Trust.
And now to announce the winners and runners up of the Current Student category:
STUDENT AWARD - RUNNER UP
The judges felt this piece used the hallmarks in a clever way and for a submission by a student, were impressed by the level of craftsmanship of this entry.
Peter Roberts, 'Remembrance' – Silver Model Plane
Student - Ms. A. Hamilton Creative Jewellery
Prize £250 
STUDENT AWARD - RUNNER UP
This entry was selected because of its celebration of the traditional and historical hallmark, while looking at a playful approach to creating a modern design and we particularly loved  her hand drawing skills
Heather Blake, 'Leo Pard' Ring
Student - British Academy of Jewellery
Prize £250
STUDENT AWARD - RUNNER UP
We were really impressed by the use of the hallmark shield shapes to make up the component parts of this very wearable necklace
Harriet Morris, Shield Wreath' Necklace
Student at Bishopsland
Prize £250
STUDENT AWARD WINNER 2019
This design is both simple and effective and beautifully presented and ultimately demonstrates how Jewellery can be made more interesting because of the application of the hallmark
Smaranda Maria Voican, Reveal' Ring
Student - Central Saint Martins
Prize £1000
A 1:1 design studio tour and portfolio review with Liz Olver, Design Director of Annoushka.
A pair of Goldsmiths' Centre Creative Links talks tickets
Congratulations to all of you.
...And now for the graduates:
GRADUATE AWARD - RUNNER UP
We really liked the way that each page carried its own mark and yet was one piece, a clever wearable design that celebrates the hallmark well
Anthony Wong, 'A Homage to the Book of the Hallmark' Ring
Graduate - Royal College of Art 
Prize £250
GRADUATE AWARD - RUNNER UP
We loved the playful kinetic qualities of the piece and the fact that the hallmarks take centre stage to the design in a new way
Anthony Wong, 'Jjjhhooooooooombaaaah' Pendant
Graduate - Royal College of Art
Prize £250
GRADUATE AWARD WINNER 2019
This piece demonstrates great craftsmanship, subtlety in the use of the marks alongside the design and we felt overall was the winner of celebrating the London hallmark
Ninka Duval, 'Thirteen Hundred' Ring
Graduate - British Academy of Jewellery   
Prize £1000
1:1 workshop tour and portfolio review with Bobby White
A pair of Goldsmiths' Centre Creative Links tickets
Well done everyone. And to those of you who weren't shortlisted or didn't win a prize, please don't give up because EVERY entry showed promise and part of the process of making is to constantly refine your ideas so I encourage  you to keep  trying.
And finally, I would like to thank the other judges - Adam, Jos and Bobby for their time in helping to select the awards, and also for making it an enjoyable selection process. And the organising team for Make Your Mark - they have worked tirelessly behind the scenes to bring this event and these awards to life, thus offering such a great opportunity to Students and Graduates in the UK, of which the knock on effect is a stronger industry for us all.
I hope you will all enjoy the exhibition of this year's entrants and winners and if you are eligible for applying in 2020 please do think about putting in an application to MAKE YOUR MARK.  The  exhibition  if  you  haven't seen it  is downstairs in the foyer.