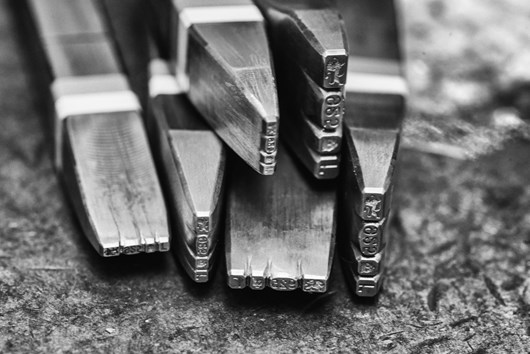 Two Assay Office staff members scooped three awards at last night's 'Jewellery Oscars'.
Specialist Laser Technician Julie Bull won a bronze award in the (3D) Design Technological Innovation category for her wedding band. Assay Office apprentice Candice Devine won two bronze awards in both the Smallworkers & Model Makers Junior category, and the 3D Design Smallworkers category for her set of playing cards.
Each apprentice is required to create a masterpiece in their final year.  Candice, who receives her freedom tomorrow, is the first ever assay office apprentice to submit hers to the prestigious awards.  She painstakingly created a full set of silver playing cards with storage basket, hinged box, and plinth over 500 hours.
Her Master Dave Merry said "The project took on its own life and just grew & grew. First she made the pack of cards – a mean feat in itself with each card either hand engraved with a design from the Flower Fairies, or laser engraved with her own design.  She then made the box, but decided that a basket to lower into the box would be better.  So, finally, keeping it from her Master (me), she made a slate plinth on silver feet on which to present the whole project."  Dave continues "To say I am 'over the moon' is the understatement of the century! I simply couldn't be any more proud of her.  But most of all, what a great achievement in the final week of her apprenticeship – going out on a high!"
An emotional Candice said "I'm extremely pleased with my two Bronze Awards! What a brilliant way to end my Apprenticeship. I'd like to take this opportunity to thank all of my tutors who have helped me achieve my goals over the last year. I have learnt so much creating my Masterpiece and am thrilled with the results!"
Julie used her specialist knowledge of laser cutting to create the intricate pattern across two metals on the ring. She is no stranger to the awards having been recognised in 2005, 2006, 2008, 2013 and 2014. She says "I enter for the challenge of competing with the best in the industry.  It's something I'll continue to do, and am planning my entry for next year already!"
Dr Robert Organ said "Having such talented individuals in our team is one of our greatest strengths.  Their combined passion, skill and experience makes for the strongest workforce."