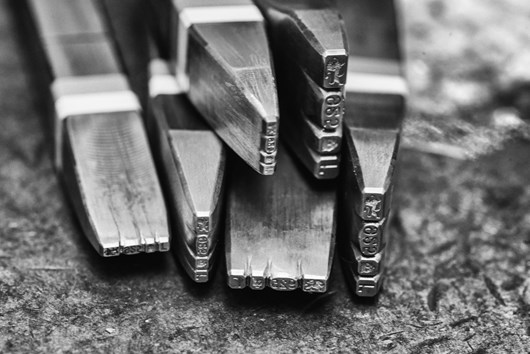 Final call for entries for our second Make Your Mark Awards!  Entries close at 5pm on Friday 29th September.
There are two Award categories to enter – Jewellery and Silversmithing – and the competition is open to current students, apprentices and recently graduated designers (within the last five years) of precious metal-related jewellery and silversmithing courses. Prizes will be awarded to the most artistically convincing design, model or finished piece in which precious metal is used with prominence, and where the London hallmark – the iconic Leopard's Head – is an integral part of the design.
The winners will be revealed at an exclusive event at London's Goldsmiths' Hall on Tuesday 31st October 2017 during the two-day Make Your Mark event.
Prizes on offer include an exclusive coaching session with prestigious maker Garrard, which will include a tour of its historic London workshop. Meanwhile, esteemed jewellery expert Joanna Hardy has donated an introductory course at her online jewellery school, worth £250.
Cooksongold will award one of the winners vouchers worth £125 to help the designer bring their winning design to life. Specialist jewellery communications agency FACETS PR will donate a business consultancy session covering elements including social media and branding.
Another key supporter of this year's event is Hatton Garden-based company Creative Awards, which is donating and engraving the two winners' trophies.
Last year's winners were Roxanne Gilbert in the Jewellery category for her silver Five Facets ring, and Annabel Hood in the Silversmithing category for her beaker design, entitled London's Leopard.
Find out more and submit and entry. The deadline for entries is 5pm on Friday 29th September 2017.
To sign up to attend the free two-day Make Your Mark event, visit www.assayofficelondon.co.uk/events/make-your-mark-2017.
Click here to see the Make Your Mark Awards 2017 judging panel