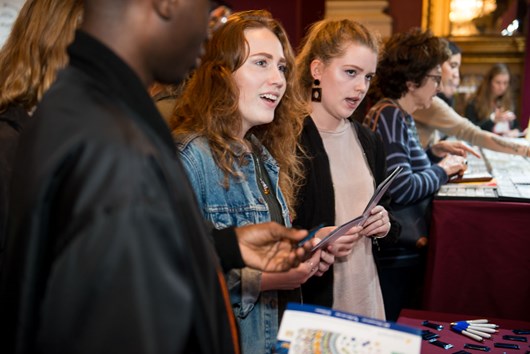 The third Make Your Mark student event at Goldsmiths' Hall proved a resounding success. Goldsmiths' Hall, London, welcomed over 900 student attendees over two days - Tuesday 1st and Wednesday 2nd November.
Led by the Goldsmiths' Company Assay Office the two action-packed days formed the UK's biggest careers event for students of jewellery and allied trades.  It delivered a range of inspiring Q&A Panel sessions with experts, and talks from Theo Fennell and Michael Wainwright (MD of Boodles and Prime Warden of the Goldsmiths' Company).  Furthermore, it saw the launch of the Make Your Mark Awards which celebrated designs that most artistically and imaginatively incorporated a UK hallmark.
In addition 27 companies from across the trade, such as diamond and bullion dealers, tool suppliers and industry organisations exhibited their products, gave demos and offered vital advice and career guidance.
Dr. Robert Organ, Deputy Warden, said: "We are very proud to have been able to bring together such an extraordinary group of partners who want to share their expertise and who passionately support the UK's jewellery making, silverware and precious metal trades," continues Robert. "With the addition of the Panel and our Awards this year we believe we gave students and their tutors an even more rewarding experience."
Event organizer Alison Byne said "We were delighted to be able to facilitate such a vital, completely free resource to the next generation of British jewellers and silversmiths. Make Your Mark is now firmly established as an annual event in the Goldsmiths' Company Assay Office's calendar and we are looking forward to expanding again in 2017."
The event celebrated the 700 year old tradition of hallmarking and gave newcomers to the industry the opportunity to kick-start their careers, not just with an understanding of their legal obligation, but also with an appreciation of how a hallmark can enhance and add value to their work.
It also saw the launch of a new exclusive free Student Hallmarking Package from the Goldsmiths' Company Assay Office.