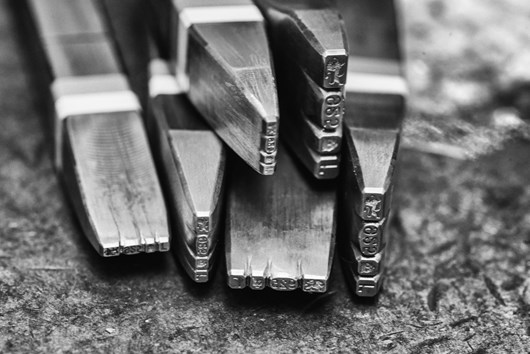 Last April we featured 12 year old Seth Stephenson who was at that point our youngest customer.  This month the record was beaten by not one, but two new registrants – both aged 7!
James Bull is the son of Julie, our specialist laser technician, and he was lucky enough to visit Goldsmiths' Hall earlier this month.
James from Harlow in Essex has always been interested in his mum's work in jewellery - he is a very inquisitive boy and always asks what she is making, and what each tool does. He has been working in silver, can shape and form with files and use forging hammers on an anvil. He has a knowledge of soldering annealing and reticulation and most recently made pendants for Valentine's Day using enamels.
When he isn't at his bench, he likes hip hop dancing, Minecraft, and is currently working towards his 25 metre badge in swimming.
James very much enjoyed his recent visit to the Hall and his tour of the Assay Office. "Dave Merry helped me strike my sponsors mark for the first time and my  favourite part of the day was when I was allowed into the strong room and got to hold a gold coin [from Trial of the Pyx] which was worth £42,000!"
Osian Jackson from North Wales enjoys raising bowls – his grandfather Robert tells us "It amazes me just how he will sit at the bench for hours - he has been working in aluminium a lot, and last year progressed to silver. He is now asking questions about high carbon steel, and hardening and tempering, as he is fully aware of annealing, aluminium, silver and gold."
He goes to Llangernyw School, which he can see from the family's workshop, and likes swimming and gymnastics.
"I like having a punch like my grandad, to carry on the family tradition. It's very exciting to think the things I make with my mark on will be recognised as my work even the future when I am old.
I like knowing all about hallmarks, and my grandad tells me what they mean. I will also like to show my hallmark to my teachers and friends in school as I have shown them pieces of jewellery that I have made.
I have already made my Mum a ring, but it will be nice to give her one with my own hallmark on" said Osian.