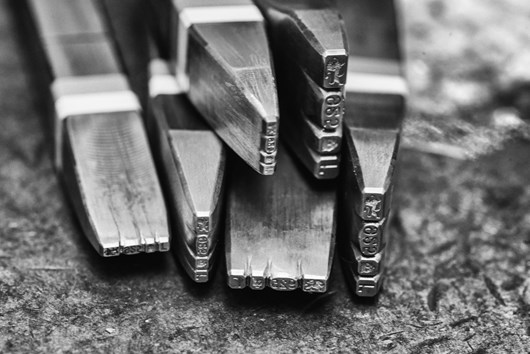 As the Platinum Jubilee approaches, Eleni Bide reflects on the unique marks that have been created to commemorate past jubilees.
Read the full article by Librarian Eleni Bide here on the Goldsmiths' Company website.
For most of their history hallmarks have been a semi-secret language known only to industry insiders. The combination of symbols and letters stamped precious metals served as a visual code for assayers, who have been tasked with preventing fraud by goldsmiths for more than 700 years. In the modern world, the secret is out. Or rather it's not a secret at all. In fact it is incredibly well publicised. Because the modern hallmark is a guarantee to both trade and consumers that the piece of silver or jewellery they hold in their hand has been independently tested, and is what it says it is. And along with this guarantee of quality and fineness, every hallmark has a story to tell: a story about the person or company who made it, the town it was assayed in, the year it was hallmarked, or an occasion so special that it requires a mark of its own.
The Queen's remarkable 70 years of service and the fact that she is the first British monarch to reach this milestone is undoubtedly such an occasion. Designed by Thomas Fattorini Ltd, the Platinum Jubilee mark conveys lots of information in a simple, elegant design: an orb (suggesting royalty and the traditional mark for platinum) containing the Queen's initials over '70'. Tom Fattorini, Director of the firm said they felt 'very honoured to be asked via the Hallmarking Council to come up with some suggestions and our designers had great fun playing with a range of ideas.'  
Whilst hallmarking has been integral to the work of UK goldsmiths since 1300, commemorative marks are a relatively recent part of the hallmark's history, with the first one being introduced to celebrate the Silver Jubilee of King George V and Queen Mary in 1935. This voluntary mark was proposed by goldsmithing trade associations who recognised that the public, as well as seeing the hallmark on their silver or jewellery as a guarantee of quality, also used it to celebrate important moments in their own lives. Its popularity led to further commemorative marks: for the Coronation of Her Majesty Queen Elizabeth II in 1953; for the Silver Jubilee in 1977; for the Millennium in 2000; for the Golden Jubilee in 2002; for the Diamond Jubilee in 2012, and the Platinum Jubilee in 2022.
The week of the Platinum Jubilee feels like a golden opportunity to introduce five examples of extraordinary modern work in precious metal from the Goldsmiths' Company collection. They all celebrate an important event within Queen Elizabeth II's reign, and (nearly) all of them bear the corresponding commemorative mark (the exception being Rod Kelly's Diamond Jubilee Rosewater Dish, which commissioned in 2012 and presented to HM Queen Elizabeth II in 2015.).
Continues here on the Goldsmiths' Company website.