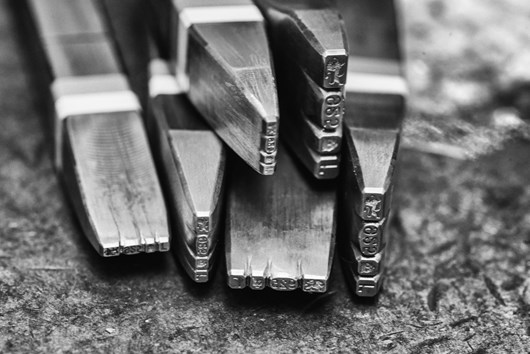 On the theme of City Spirit, design any item, product or jewel that interprets, represents and celebrates the spirit of a city.
We are delighted to be partnering again with The Goldsmiths' Craft and Design Council for the 2023/24 Competition with our Make Your Mark design challenge.

This year, on the theme of 'City Spirit', entrants are invited to design jewellery, smallwork or silverware. Broad and engaging interpretations of this are encouraged and welcomed, such as folklore, fashion, festivals, communities, culture, diversity, food, history and architecture to name but a few areas of interest. Designers can choose any city (globally) but must embrace their concept visually through their design presentation.

Also important, designs must incorporate a display, or bespoke placement of the London Assay Office hallmark that is complimentary to the design and thoughtfully positioned. This is an opportunity to choose the placement of the hallmark components, and to consider the hallmark in harmony with your design.
Further information and examples of display marks can be found here:
Your design needs to embrace the following: 
Include scaled drawing with measurements and materials used in compliance with current legislation for UK Hallmarking. 

Mixed metal/other material proposals must contain the legal minimum amount of precious metal. 

Provide a description relating to your inspiration, concept and development.

Consideration for the size, location, and configuration of the hallmark and its component marks. 
An unmissable opportunity
Subject to approval, The Goldsmiths' Company Assay Office in liaison with the wining designer, will explore the potential of taking the winning design into manufacture with the prospect of exhibition and promotional opportunities.
Key points of consideration are:
Originality and aesthetic appeal;

The highest standards of visual communication and presentation are required to communicate your design accurately;

A successful design includes functionality;

A celebration of the London Hallmark;

An understanding of the various components of a Hallmark.
Guidance & Entry Form Requirements
Entries must comply with the 2D design and submission guidelines: 
Good standards of visual communication and presentation will be highly regarded;

Description of your design, the concept and material specifications (gemstones, metals etc) must be provided on the design board.

Outline method/s of manufacture where relevant. 

Entrants are requested to declare on the entry form if they have had their design rendered by a CAD technician or a digital artist.
Techniques & Technology used: It is important that you explain the techniques you have used to make your piece i.e. gouache, CAD, Illustrator, watercolours, Procreate etc. (Max 50 words)