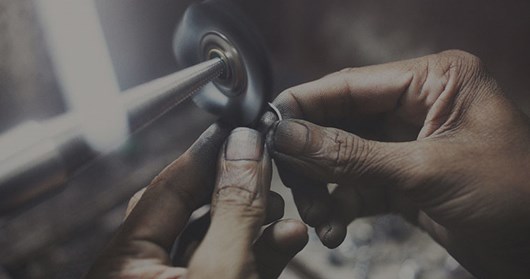 On 5 February 2019 Goldsmiths' Hall will once again be opening its doors to all students, graduates and apprentices of the jewellery and allied trades to help you make your mark in industry. This free one day event led by The Goldsmiths' Company Assay Office will be a one stop shop to learn everything you need to know about hallmarking, manufacturing and support networks to help you in your career, alongside a packed schedule of talks and demonstrations and our Make Your Mark awards. Register now to be kept informed. 
Following the huge success of the events in 2015, 2016 and 2017, the event will deliver even more inspiration, advice and networking opportunities.
Make Your Mark is a completely free tutor–student event open to students, graduates, apprentices and anyone studying on a UK-based precious-metal-related course (full- or part-time) whether at degree level or on a short adult education or private tutored course.
Led by the Goldsmiths' Company Assay Office, and supported by the Goldsmiths' Company, the event will provide a packed programme of inspiring talks from leading figures in the trade, live demos, an exhibition of entries into the Make You Mark Award, careers advice and much more besides.
Key elements of the event will include:
            

 

A wide range of exhibitors offering advice and guidance

            

 

Live demonstrations including diamond cutting, hand engraving and stone setting

            

 

Stalls selling books, stones, bullion, tools and much more

            

 

A tour of the Goldsmiths' Company's renowned library

            

 

Make Your Mark Surgery Sessions – this is your chance for face to face advice with experts

            

 

Make Your Mark Awards - an exciting design competition that aims to challenge today's students working in precious metal. Prizes will be awarded to the most artistically convincing design, model or finished piece in which precious metal is used with prominence, and where a London hallmark is part of the design. More details to follow....
Follow this link to Eventbrite to now to be kept informed of this fantastic event!