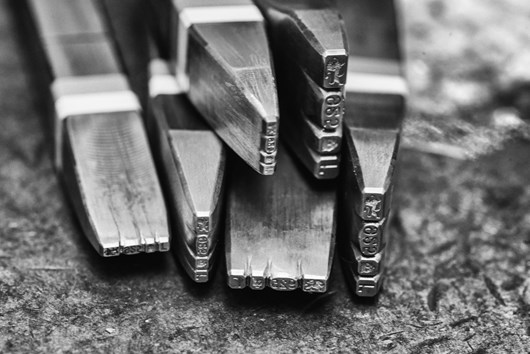 Held at the iconic Goldsmiths' Hall by the Goldsmiths' Company Assay Office and organised in partnership with the National Association of Jewellers, a series of talks were made educating members of public about the nuances of hallmarking, the future of the industry and the direction of the Goldsmiths' Company and the NAJ.
Speakers included Dr Robert Organ - Deputy Warden of the Goldsmiths' Company Assay Office, Mr Peter Taylor – Director of the Goldsmiths' Centre, Ms Kerry Gregory – Managing Director of Gemmology Rocks and Mr Simon Forrester Chief Executive of the NAJ.
Together the speakers touched on everything from the direction and developments of the industry to the intricacies of Hallmarking and the Goldsmiths' Company's place in it.
The series of talks underlined the importance of collaboration within the industry, Dr Robert Organ spoke about past, present and future of Hallmarking and the harsh realities of the industry – with the number of hallmarked products dropping drastically in correlation with the price of gold. Peter Taylor followed up discussing the importance of working together as an industry to combat these problems, "The Centre benefits from access to the world class facilities of the Assay Office. Its focus on identifying and supporting the next generation of makers through its student's registration programme Make Your Mark and perfectly complements the Centre's emphasis on identifying the best new entrants to the craft and industry. The Assay Office is defining its role as the leading source of knowledge around materials and processes here in the UK. When this is combined with the resources of the Centre and Goldsmiths' Company it is a powerful combination."
Kerry Gregory spoke about the realities and importance of hallmarking from a retailer's perspective, when questioned on when to hallmark Kerry said, "Well this might seem over simple, but the easiest way is to just get them hallmarked! Every item will be tested, and not only will they be tested they will then be marked. So, all your problems solved in one go."
Finally, the event welcomed Simon Forrester to the stage. Simon was promoting and introducing the Created in the UK Mark – an additional mark which can be added to pieces and champions British manufacturing. "The mark can be struck on precious metal items by any of the four UK Assay Offices as an additional mark to go alongside the hallmark. Initial sets of commonly used punches will be held by the Assay Offices in order to kickstart the scheme, but the mark may also be applied via laser."