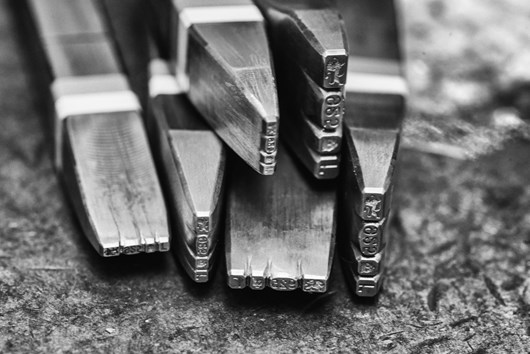 The New Designers Goldsmiths' Company Awards were announced at the Business Design Centre, Islington on 28 June. The Goldsmiths' Company is a leading sponsor of New Designers, the UK's principal showcase of creative and innovative work from design graduates.
While all students exhibiting jewellery and silver in the Jewellery and Contemporary Design and Crafts zone (Part 1: 28 June – 1 July 2017) were automatically considered for the awards, Andrew Fleming succeeded in the Silversmithing category and Miki Asai in Jewellery.
Silversmithing
Andrew Fleming from the Glasgow School of Art won for his exquisite Construct set of three ladles. Inspired by scaffolding and the built environment, he describes these Sterling silver pieces as "my interpretation of a building site for your dining table."
Upon receiving his award, Andrew commented: "I'm feeling very proud. It's fantastic to be connected to such an established institution such as the Goldsmiths' Company as it represents the best in silversmithing in the UK."
Jewellery
Miki Asai, also from the Glasgow School of Art, won for her delicate Preserved Moments brooch. While her practice has a strong Japanese aesthetic that finds beauty in imperfection and ephemerality, her 18ct gold piece draws inspiration from her blurred photos of flashing street lights. The piece incorporates nearly 200 hand-wound gold wire springs that vibrate and small disks that catch the light.
Thrilled to win the top jewellery award, Miki claimed: "I'm really surprised but it was an amazing opportunity to make this brooch. It took a very long time and I'm really happy that people like it."
The winners receive:
A week's work experience in a professional workshop at the Goldsmiths' Centre where they will focus on commercialising their own work
Bursary of up to £500 towards living expenses, if required
Special Student Hallmarking Package including 10 year registration at the Goldsmiths' Company Assay Office, laser software set-up for laser hallmarking, a complimentary behind the scenes tour of the Assay Office and free access to the Goldsmiths' Company Library
Judith Cobham-Lowe, Prime Warden of the Goldsmiths' Company, commented:
"The Goldsmiths' Company is delighted to recognise the amazing work of Andrew Fleming and Miki Asai. We are proud to back the next generation of industry stars through our support of New Designers, the Goldsmiths' Centre's educational activities, and the London Assay Office's special packages for students, among many other schemes."