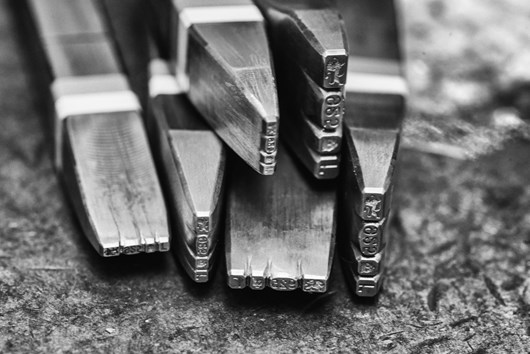 Richard Fox, Managing Director of Fox Silver, has become Prime Warden (Chairman-equivalent) of the Goldsmiths' Company.
Richard is the 693rd Prime Warden of the Goldsmiths' Company – a new Prime Warden is elected every year. He is the first Prime Warden in the Company's history to take office virtually, via video conference.
Fox Silver is a design-led manufacturing company specialising in silverware. It counts Rolls Royce, Formula One and No. 10 Downing Street among its clients.
Richard became a Freeman of the Goldsmiths' Company and the City of London in 1989; and became a Liveryman in 2005.
The Goldsmiths' Company is delighted to announce that Richard Fox, Managing Director of Fox Silver, has taken office as Prime Warden, in succession to Dr Timothy Schroder. With a background in silversmithing, design and business leadership, Richard has successfully created beautiful silverware for the likes of Formula One and Rolls Royce for almost four decades. His primary focus will be championing the trade of silversmiths, jewellers and allied industries during his year in office.
Richard's distiguished career as a silversmith started as an extra-curriclar activity at school, but soon became "an all-consuming passion". After gaining a Master's degree in design from the Royal College of Art, Richard set up his business in 1981 in central London. Only a year later, in 1982, Middlesex Polytechnic invited him to become an associate lecturer for their first-year silversmithing course. He taught for seven years before deciding to focus full-time on Fox Silver, a design-led manufacturing company specialising in silverware, which is now based in Croydon, Surrey and employs 14 people who service clients around the world.
One of Richard's most significant early business successes was winning the commission to make the Bernie Ecclestone trophy in 1984 and later the F1 TV Trophy. This would lay the foundation for a career mastering the art of making trophies for Formula One and other prestigious clients, as well as medals and models, which is still a major part of his business today.
Career highlights also include a commission for 20 sets of silverware for the State Dining Room of No.10 Downing Street in 1991 and 2005; designing and creating three pieces for the Vatican's collection; and becoming a tier-one supplier to Rolls Royce. The latter has spurred investment in CAD (Computer Aided Design), 3D printing and laser technology in his workshop, keeping pace with the highest level of design developments and innovation.
Richard's renowned trade experience, which includes co-founding the Association of British Designer Silversmiths in 1996 (now known as Contemporary British Silversmiths), means he is perfectly placed to take on the challenges of the year ahead as an ambassador for the Goldsmiths' Company, which he joined in 2005, and for the craft and trade.
Commenting on his appointment and the year ahead, Richard says: "This will doubtless be a challenging year for the Company and for our craft, trade and allied industries whose business have virtually come to a standstill since the crisis began in March. I am deeply passionate about our industry – which I believe is world-class – and am committed to doing what I can to support it during my time as Prime Warden."
"We have already made a contribution towards the support of our trade through the Goldsmiths' Covid-19 Fund, with over £700,000 awarded in grants to almost 500 people who are working as sole traders or running micro-businesses. The emergency fund was set up to to provide financial relief to some of the most vulnerable jewellers and silversmiths who couldn't access government funding, certainly early in the crisis. One of the Goldsmiths' Company's aims is to ensure that jewellers, silversmiths and their allied trades are thriving and contributing to the UK economy. As the financial crisis deepens it is more important than ever that we stick to that commitment and look at the ways in which we can ensure our craft and trade remains one of the most vibrant and successful in the world."