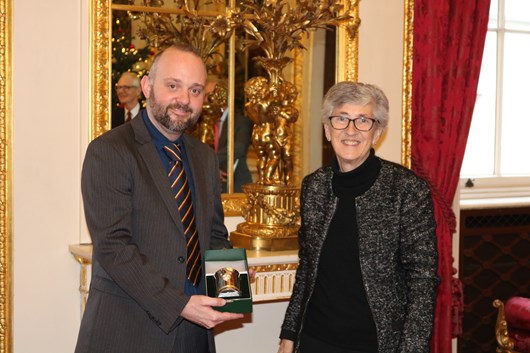 Congratulations to Simon, Will, and Robert, who last week were presented with silver beakers to celebrate 20 years of working for the Goldsmiths' Company.
Engineer Simon Jones started working for us in 2000 undertaking an apprenticeship within the workshop under Pat's guidance.
Assay Office General Manager Will Evans started work in the laboratory as Lab Assistant in 2000, replacing an employee who had been lab assistant for over 40 years. He says "It was then put to me that I could be lab assistant for 40 years too or I could do some further education. Due to the growth of non-destructive testing and the downturn in Hallmarking seen at that time, I decided to pursue a long held interest in computing, and studied for a degree in information systems and management, this lead to a move out of the laboratory and put me on the path to my current position. I was made Process Development Engineer in 2007, then Systems Development Manager in 2010, before being made Technical Manager in 2015, then Superintendent Assayer in 2017. I was made General Manager in summer 2021."
Dr Robert Organ joined the Assay Office London in 2000 as Superintendent Assayer and took over as Deputy Warden (Managing Director) in 2006. He retired in October, and is now Senior Hallmarking Consultant to the Assay Office.