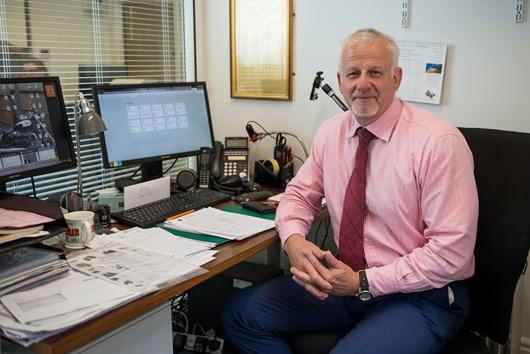 This month we bid farewell to our much loved Superintendent Assayer John Love. John started out at the Assay Office as an apprentice 42 years ago and is now retiring to Dorset to a life of sea fishing on the ocean waves!
He worked his way up through the ranks with roles such as Head of the Gold Department and Deputy Superintendent Assayer, allowing him to gain an unprecedented understanding of the business and the opportunity to build strong relationships with customers. As Superintendent Assayer, John was second in command and responsible for the day-to-day running of the Assay Office and its sub-offices.
During his Apprenticeship he was involved in the vast quantity of work submitted to celebrate the Queen's Silver Jubilee in 1977. During this year, the Assay Office received 60,000 articles on a daily basis, which brought new challenges and pressures to the production floor. He continued to relish the assay-action, and in 2012 he hallmarked the London Olympic medals - the first Olympic medals to bear a hallmark.
Deputy Warden Dr Robert Organ said "John has given 42 years of outstanding service for the Goldsmiths' Company.  He has successfully managed the Assay Office through the greatest period of technological change and it was him who was responsible for our Heathrow, Allied and Graff sub-offices.  We wish this remarkable man well in his retirement." 
Completing over 40 years is rare in this modern environment, but John's commitment during this time has been exemplary.  Members of his family have also worked here, and John tells us that he will miss such a unique working environment.
He says "The pleasure of working with such lovely people makes the working day so enjoyable and contributed to me working here for so long.  The unique opportunities that the Assay Office offered created a sense of belonging and loyalty in us as 16 year old apprentices. I know this may sound somewhat of a cliche, but my initiation into the Company was the practice of working for the common good of the Company.  In my mind this attitude builds the cornerstone of what the Company stands for, and enriched me as an individual".  
Will Evans will become Superintendent Assayer.