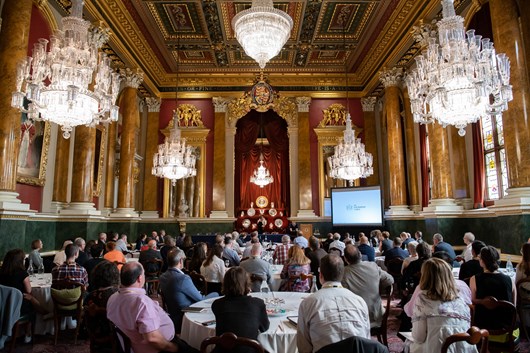 The Goldsmiths' Company Assay Office held a major international conference last week on 8 and 9 July 2019, at Goldsmiths' Hall.  
A highly diverse range of talks were delivered during the first Jewellery Materials Congress by 18 international speakers.  Subjects covered academic research, visions of the industry, and artisan and industrial materials manufacture.
The Jewellery Materials Congress' objective was to support the jewellery and silverware community by providing a collaborative, non-commercial forum to share knowledge and foster technological and operational innovation in materials development. It was the largest jewellery technology conference held in the UK and the largest specialising in jewellery materials in the world. 
Attendee Brian Hill, Consultant to the Goldsmiths' Craft And Design Council, said "The internationalism, breadth and calibre of speakers brought together by the Assay Office was impressive and delivered an informative and inspiring culture of like-minded people who clearly were further charged with enthusiasm and energy from being part of an excellent two days at Goldsmiths' Hall."
Attendees including tutors, students, academics and those working in the industry benefited from hearing the latest developments from experts from all around the world.  Perennial topics in the trade were explored: ethical issues, 3D printing, tarnish resistant silver alloys, and allergies, plus the history of jewellery making metals.
Dr Robert Organ, Deputy Warden of the Goldsmiths' Company Assay Office said "The Santa Fe Symposium in the USA is in its 33rd successful year – it has driven innovation and shaped much thought and progress in the industry.  I am proud to have had their support of our Congress as we share an enlightened view on the importance of education, training, new technology and sharing of information through networking.  By running this Congress alongside funding, via a gift from the Goldsmiths' Company Charity, a number of PhD studentships in the Department of Materials Science and Metallurgy at the University of Cambridge, we intend to bolster the UK's place at the cutting edge of new technology."
Images below by Julia Skupny