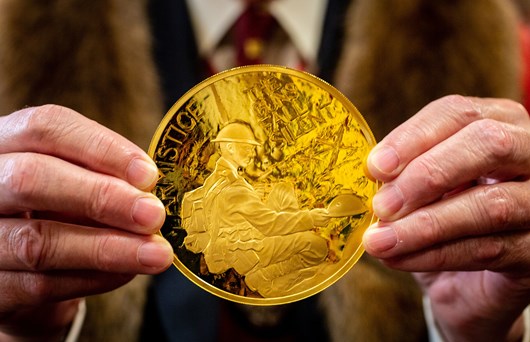 Over 10,600 Royal Mint coins went on 'trial' in London on Tuesday 29 January in one of Britain's oldest judicial processes – the Trial of the Pyx – which takes place at Goldsmiths' Hall.  The Goldsmiths' Company have been responsible for the proceedings since 1580. 
Amongst some of the coins to be tested this year will be the only official UK £5 coin commemorating the royal wedding of His Royal Highness Prince Henry of Wales and Ms Meghan Markle; a set of 50p coins to mark the 100th Anniversary of The Representation of the People Act; a set of £2 coins to commemorate the 100th Anniversary of the First World War; and a £5 Silver Proof Coin to mark the 5th birthday of HRH Prince George.
A jury made up of members of the Worshipful Company of Goldsmiths decide whether the coins produced by The Royal Mint are of the correct weight, size and composition. The whole trial is presided over by Barbara Fontaine, the Queen's Remembrancer, the oldest judicial post in England and Wales.