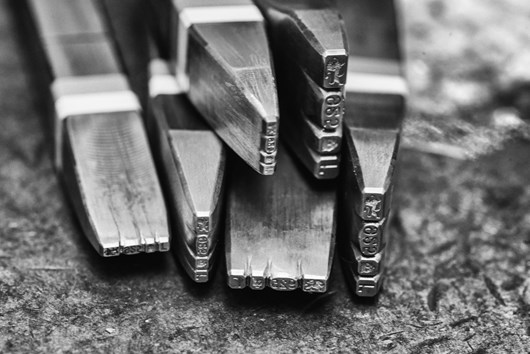 Ealing Council News Release: 
Ealing's trading standards team has won the prestigious British Hallmarking Council Touchstone Award 2017 for their work in cracking down on jewellery businesses selling items illegally described and without hallmarks.

Southall is renowned locally and nationally as a destination for purchasing gold jewellery with the majority of businesses specialising in items made from 22ct gold. Following complaints from members of the public, the team launched an operation to check that jewellery was being described accurately, that counterfeit trademarks weren't being used.

The hallmarking of precious metal is compulsory in the United Kingdom. Every item sold as a precious metal, i.e. gold, silver or platinum, must have been tested and hallmarked by an independent third-party Assay Office to guarantee that the precious metal is of the fineness stated.

The law applies to everything sold in the UK, regardless of where it may have been manufactured. The only exemptions are items which fall beneath the specified weight thresholds which are 1 gram for gold, 7.78 grams for silver and 0.5 grams for platinum.

In total, 24 Southall shops were issued with guidance on trading legally. This was followed up with a series of unannounced visits, and a joint intervention day with local police, where jewellery was checked and when found to have suspicious trademarks, or being sold as 22 carat, but without hallmarks, was seized for further inspection by the London Assay Office. Weighing machines in shops were also checked and where found to be unlawful were also seized.

All traders that were found to be breaking the law were interviewed under caution. Two have been prosecuted and a further four are pending legal proceedings. In total, the team seized £42,000 worth of jewellery and nine weighing machines and the two traders that faced prosecution have between them faced fines of £11,000 for breaking consumer legislation as well as £3,000 in costs.

The British Hallmarking Council recognised the trading standard team's outstanding enforcement work and their dedication in protecting the public at an awards ceremony in Harrogate on Tuesday, 27 June where they were presented with a solid silver plate.

Councillor Ranjit Dheer, cabinet member for community services and safety, said: "I am immensely proud of our trading standards team. Their actions not only protected the public, they also secured the interests of the many legitimate traders in Southall who were being undercut by dishonest businesses, as well as the wider reputation of Southall as a premier destination for buying gold and jewellery.

"All jewellers should take note; checking that jewellery is being honestly sold and hallmarks correctly applied is now an ongoing priority for our trading standards team so if you are defrauding the public, we will find you and prosecute. Consumers have the right to buy with confidence."

Suspected trading standards breaches should be reported to the Citizens Advice Service on 03454 040 506 or by going to www.citizensadvice.org.uk.