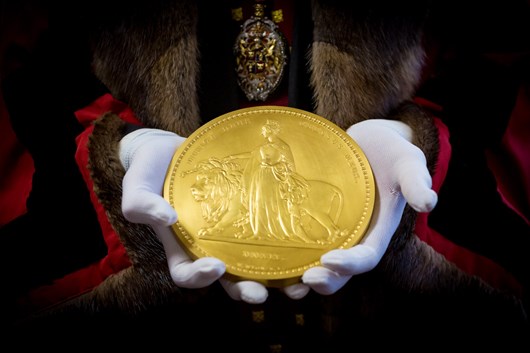 Over 23,000 Royal Mint coins went on 'trial' in London on Tuesday 28 January in one of Britain's oldest judicial processes – the Trial of the Pyx – which takes place at Goldsmiths' Hall.  The Goldsmiths' Company have been responsible for the proceedings since 1580. 

Amongst some of the coins to be tested this year will be the largest coins ever to be produced in the UK – the five kilo and the two kilo 'Una and the Lion' coins. These coins were created as part of The Royal Mint's new Great Engravers series, which pays homage to William Wyon, who was chief engraver at The Royal Mint for 23 years until his death in 1851.

A jury made up of Wardens of the Worshipful Company of Goldsmiths decide whether the coins produced by The Royal Mint are of the correct weight, size and composition. The whole trial is presided over by Barbara Fontaine, the Queen's Remembrancer, the oldest judicial post in England and Wales.

The Trial is now adjourned for three months to allow time for the coins to be tested by the Goldsmiths' Company Assay Office Laboratory and the National Measurement Office. 

Read more here.