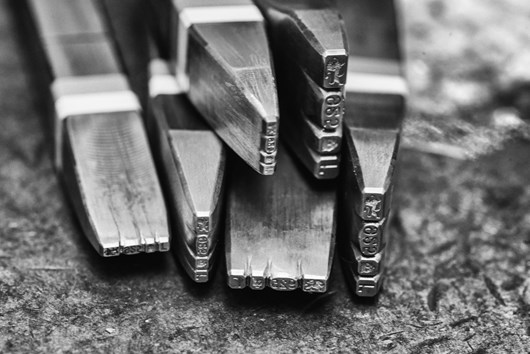 Our Press Marking Supervisor, Sara Morrison, recently celebrated 40 years at the Assay Office.
Sara began working here in the press department a month before her 16th birthday. She had the opportunity to enter for an apprenticeship at the British Museum, learning bookbinding, and was the only girl amongst 300 candidates to sit the exam. Although she got through to the final stages, she was interviewed at the Assay Office and was immediately offered the job. "I made a decision quickly and the rest is history. I always wondered where the other may have led," comments Sara.
"Working here, you get to see and handle a wide variety of both precious and semi-precious stones. My father was a diamond polisher and my partner is a jeweller," she explains. "I've also had three of my sisters working here with me over the years so there's always been a strong connection to the trade."
One of Sara's most treasured memories is the Millennium Dinner and Dance that was hosted by the Goldsmiths' Company: "It was a chance for everyone to dress up in cocktail dresses and black tie. The presentation and ambience was fantastic. I will never forget it."
Congratulations Sara on a fabulous achievement!