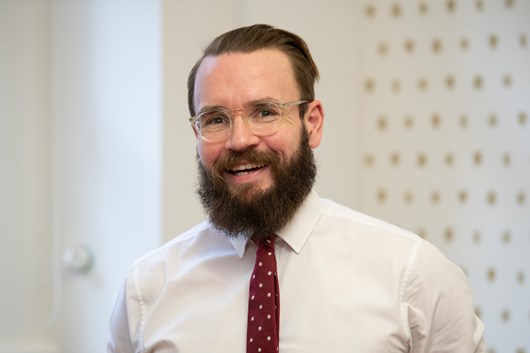 Will Evans is promoted to the new role of General Manager of the Goldsmiths' Company Assay Office
Robert Organ, following his retirement as Deputy Warden in October, will take up a new role as Senior Hallmarking Consultant to the Assay Office 
Will Evans, Superintendent Assayer of the Goldsmiths' Company Assay Office in London, has been promoted to General Manager following the announced retirement of Robert Organ, Deputy Warden of the Assay Office. 
Will started his career at the Assay Office in 2000 as a Lab Assistant and progressed through the ranks from Process Development Engineer to Systems Development Manager and Technical Manager, before becoming Superintendent Assayer in 2017. He has been responsible for leading on many of the technological advances of the Assay Office over the last 21 years from the introduction of 3D laser engraving to online services for customers.  
Will takes over from Dr Robert Organ in October, who retires from his role as Deputy Warden. Robert will take up a new part-time position of Senior Hallmarking Consultant to the Assay Office in November, using his extensive experience to carry out work on the annual Trial of the Pyx, testing the soundness of the nation's coinage. He will also help co-ordinate the Antique Plate Committee, the internationally renowned body for adjudicating spurious silver articles, and represent the London Assay Office on trade and government bodies.
Commenting on his new role, Will said: "I am extremely happy to be given the opportunity to lead the Assay Office into the next era with a continued focus on the service we offer our customers. The last 18 months have been the most challenging for all of us, but we are in great shape to face the future: upholding standards, protecting consumers and innovating in our services." 
Chairman of the Assay Office Management Board, Neil Carson, said, "Will has been a great asset to the Assay Office for over two decades and I am delighted that he will take on the new role of General Manager this autumn. He will be responsible for the safe and efficient running of all of the Assay Office facilities (Goldsmiths' Hall, Greville Street, Heathrow and Allied Gold) while continuing to deliver a first-class service to our customers and expanding our digital offer. 
I am also very pleased that we will continue to benefit from Dr Organ's expertise and knowledge as we address some of the prevailing challenges that face the UK hallmarking industry."