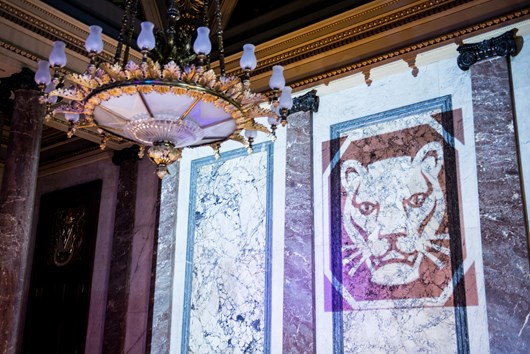 Winners of the Make Your Mark Awards have been announced at a VIP drinks reception at London's Goldsmiths' Hall tonight - Tuesday 31 October 2017.
The winner of this year's Jewellery category was recent graduate Charelle Smith for her Unlock the Hallmark pendant. Judges praised her entry for being an "innovative design with commercial appeal that used hallmarks as an integral part of its functionality". She was presented with an exclusive coaching session with prestigious jewellery house Garrard, as well as a business consultancy session with FACETS PR and a trophy donated and engraved by Creative Awards.
Smith said of her design: "The purpose of the piece is to educate the wearer. When the hallmark is lined up with the diamond, the diamond end can be removed from its casing a reveal a hidden vial. The inspiration derives from mechanisms and is made in the same way as a combination lock – when the hallmarks are aligned, hidden treasures can be unlocked."
Catherine McGinty was highly commended in the Jewellery Category for her At This Very Moment in Time brooch, winning an introductory course at Joanna Hardy's Online Jewellery School.
Both of the winning designers in the Jewellery category have recently completed a Jewellery Manufacturing Level 3 Diploma at the British Academy of Jewellery.
Meanwhile, judges of the Silversmithing category were unanimous in their decision that they could not award one clear winner as none of the entries completely met the brief. 
However, Dr Robert Organ, Deputy Warden of The Goldsmiths' Company Assay Office, presented a special Deputy Warden's prize to Rebecca Neil for her Take Your Pick cocktail stick set, which, Organ said, "was a particularly interesting concept that deserved recognition" for which she received a £125 voucher from Cooksongold.
All three winners on the night also received prizes from The Goldsmiths' Company Assay Office including a tour of the Assay Office and free hallmarking registration including sponsor's punch.
Dr Robert Organ, Deputy Warden of the Goldsmiths' Company Assay Office, said: "Charelle really cracked the code of what the judges were looking for! She locked in the winning combination of imagination and craftsmanship – and indeed has unlocked the potential for future entries to this innovative competition.  Catherine's brooch was also an excellently thought out concept – and congratulations to the BAJ for producing both students.  I extend my thanks to our sponsors and everyone who entered."
The judging panels for this year's Make Your Mark Awards were made up of renowned silversmith Grant Macdonald; Gordon Hamme, founder and managing director of British Silver Week; Adam Phillips, Account Manager at the Goldsmiths' Company Assay Office; jewellery journalist Rachael Taylor; retailer and jewellery designer Harriet Kelsall; and Sarah Carpin, director of jewellery specialist communications agency FACETS PR.  Harriet presented the Awards delivering an incredibly insightful speech about her love of hallmarking.  (Transcript to follow).
The Goldsmiths' Company Assay Office's Make Your Mark Awards invites students and young designers to design a piece of jewellery or silverware that celebrates the London hallmark, the iconic Leopard's Head.