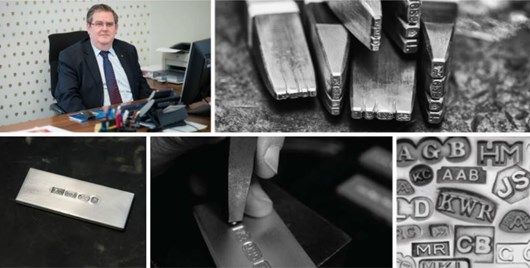 The Deputy Warden of the Goldsmiths' Company Assay Office in London, Dr Robert Organ, is to retire after 21 years of service.
Robert began his career at the Goldsmiths' Company in 2000 as Superintendent Assayer of the London Assay Office, before taking over as Deputy Warden (Managing Director-equivalent) in 2006. The Goldsmiths' Company has been responsible for guaranteeing the purity of items made of precious metals since 1300, when the hallmarking statute was passed.
Commenting on his retirement, Robert said, "It has been a privilege and honour to serve as Deputy Warden. I have taken great pride in adding to the wonderful history of hallmarking within the Company. In the last 21 years, there have been unprecedented technological, social and economic changes to hallmarking and to the Assay Office and I am proud to have played a role in finding solutions to the challenges they have posed."
The Prime Warden of the Company, Richard Fox, said, "The Goldsmiths' Company is tremendously grateful to Robert for all that he has contributed to the Assay Office and to hallmarking in the United Kingdom during his long service as Deputy Warden. He has steered the Assay Office through challenging times, bringing to bear his intellectual skills and scientific expertise, and has shown an unwavering commitment to providing the best possible service to our customers. Everyone in the Company wishes Robert the very best for his retirement, and we look forward to his continuing involvement with the Company as a Liveryman."
Dr Organ retires in October to care for and spend more time with his family. A separate announcement about the future management arrangements for the London Assay Office will be made in due course.
About Dr Robert Organ
Robert, of Welsh heritage, hails from Gwent. He gained a degree in Natural Sciences and a PhD from Emmanuel College, University of Cambridge. He is a professional member of the Institute of Metal Finishing and a Fellow and Chartered Engineer with the Institute of Materials, Minerals and Mining. He was made a Liveryman of the Goldsmiths' Company in 2015.
Read more about him here.