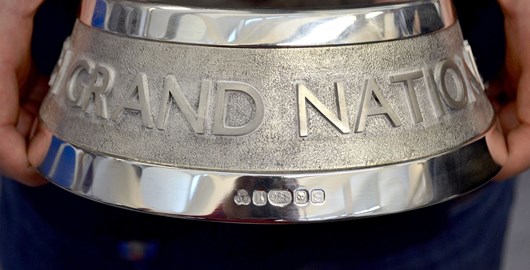 For the first time in the history of the Grand National, a new trophy will be designed on a yearly basis under a five-year sponsorship deal with global diagnostics company Randox Health.
While the new trophy will be fully unveiled in mid-February, 24 January marked the final step of the 2017 design, with its hallmarking here at the Goldsmiths' Company Assay Office.  As the base and body could be separated, Adam Phillips applied the Full Traditional UK Hallmark on its base, and a part mark on the cup. 
The piece has been created in the workshop of leading silversmith Shannon O'Neill, whose work also features in the Goldsmiths' Company's Modern Silver Collection.
The silver 2017 trophy marries the speed, agility and excitement of steeplechasing with abstract images of DNA referencing Randox Health.  
In another first for the Grand National in 2017: along with the horse owner receiving the winner's trophy, the trainer, jockey and groom will also receive their own version of the trophy in the form of water vessels.  Of course, we hallmarked those too! 
Shannon says: ​ "I'm thrilled and honoured to have been chosen to design and make this year's Randox Health Grand National trophy. Also a huge thank you to the Goldsmiths' Company for championing the artist-silversmith and providing a global platform for contemporary silver. Answering the brief was an exciting and ambitious challenge and it was a great team effort to get it across the finish line in time."
Shannon O'Neill
Shannon was named winner of the Goldsmiths' Company's 'Young  Designer Silversmiths Award' in 1995 and was chosen artist in residence for the Goldsmiths' Company's 'Studio Silver Today' exhibition at Dunham Massey, Cheshire, 2010, in liaison with the National Trust. Shannon is a freeman of the Goldsmiths' Company. This Grand National trophy is the largest commission she has undertaken so far.
More pictures to be revealed!