The Management Team looking after you across all sites
Will Evans
Superintendent Assayer
How did you begin your career at the Assay Office?
I started work in the laboratory as Lab Assistant in 2000, replacing an employee who had been lab assistant for over 40 years. It was then put to me that I could be lab assistant for 40 years too or I could do some further education. Due to the growth of non-destructive testing and the downturn in Hallmarking seen at that time, I decided to pursue a long held interest in computing, and studied for a degree in information systems and management, this lead to a move out of the laboratory and put me on the path to my current position.  I was made Process Development Engineer in 2007, then Systems Development Manager in 2010, before being made Technical Manager in 2015, then Superintendent Assayer in 2017.
As long as we continue to find ways to marry the latest technological advances with our 700 year old traditions, I think the Assay Office will continue to remain relevant to its customers, and I hope to remain part of that.
What does your typical week involve?
First job on Monday is the weekly production report, which shows the Assay Office performance compared to the same period last year, in terms of articles Hallmarked and income generated across our five sites, this often sets the tone for the week, if the numbers are good then everyone's happy.
Weekly Managers meeting with Dr Robert Organ ensure everyone is up to date with the various activities.
I will then check in with the teams I am responsible for - Laboratory,Workshop, and Registration of new customers to ensure the smooth running of these departments, although due to the high experience levels within them, this tends to happen without any involvement from me!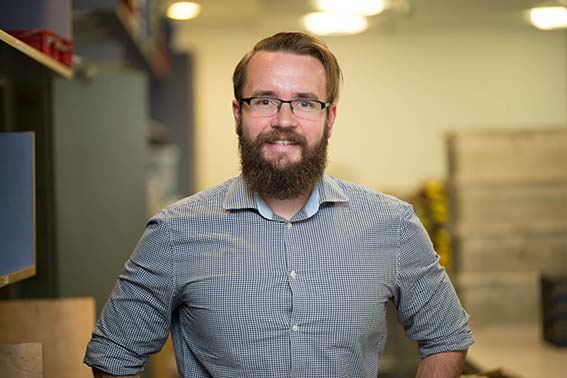 The rest of the week is then project dependent, discussions around the latest IT project, analysis for the board, maintaining our UKAS accreditation.
What has been your career highlight to date?
Being heavily involved in the design and successful opening of our latest sub office in Graff Diamonds comes immediately to mind, but it has to be the project which lead to our engineering workshop bringing the production of every hallmark and sponsor's punch used in the Assay Office back in house, which has led to us producing around 2000 punches per year in the basement of a listed building in the middle of the City of London.
Also, the first Hallmark punch produced on our laser was used to Hallmark the medals for the 2012 London Olympics.
For me this project sums up the Assay Office ethos of marrying cutting edge technology, in this case 3D laser engraving, with the traditions of the company and experience of the staff, all trained via the traditional apprenticeship method.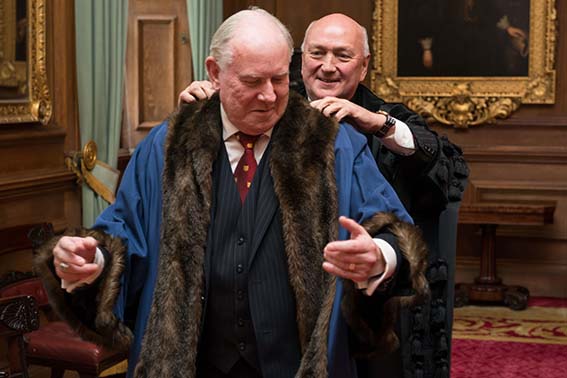 Dave Merry
Head of Training, Education & Trading Standards Liaison
In July 2016 Dave celebrated his 45th Anniversary as an employee of the Assay Office. Dave joined us in July 1971 as an apprentice and is our longest serving member of staff.
He is Head of Training, Education & Trading Standards Liaison, and Fellow of the Institute of Professional Goldsmiths. He is also an Honorary Member of the Chartered Trading Standards Institute - one of only six-non Trading Standards Officers to be given the membership.
What's the best thing about working with apprentices?
I love working with youngsters. They keep me young at heart. It's really rewarding to take someone who doesn't know anything and to technically shape them. In doing so, we are perpetuating the craft - I see it as my legacy to do this and it's something I feel really passionate about.
I trained people for 20 years before I became a Master. The Government stopped apprenticeships during the late 80s. Robert Grant (one of our expert hand markers) was the first of the revitalised programme about nine years ago and I am currently interviewing for number six.
What's your favourite fact about hallmarking?
It shows, and proves, provenance.
What's the weirdest piece you've ever had to hallmark?
We had a lot of weird stuff in the seventies, including Kama Sutra chess sets, pornographic rings and even parts of the anatomy. Some of the girls used to refuse to mark them, but I was happy to do it, especially as some of them were made by my fellow students at Cass!
What has been your most memorable moment here?
Being made a Liveryman recently was a great honour. I was also extremely honoured to be awarded Fellowship of the IPG and to be made an Honorary Member of The Chartered Trading Standards Institute.
As a Master of Apprentices, it was hugely exciting to send our first female apprentice, Candice, to Number 10 for the launch of the Trailblazers Apprenticeship Scheme.
What's your claim to fame?
I've been involved in quite a few television shows – I'm just about to do my seventh 'Fake Britain'.
We always see you in a three-piece suit, why is that?
My grandfather was a Master of Apprentices in heavy engineering. He was awarded an MBE for training youngsters, and for training women during the Second World War. Everyone in his industry wore waistcoats with a tie, so I was used to seeing him in a three-piece suit, maybe that's where it came from.
Andy Waker
Manager Greville Street Office 
Andy is another long-standing member of staff who started out as an apprentice, back in 1977.
As part of his apprenticeship he studied City & Guilds Silversmithing and Design at Sir John Cass.
Andy helped with the introduction of laser marking within the Goldsmiths' Company Assay Office and also with the formation of our Student Hallmarking Package.
Today, Andy is in charge of the Greville Street Sub-office, which was our first satellite office, designed and located for the Hatton Garden Community.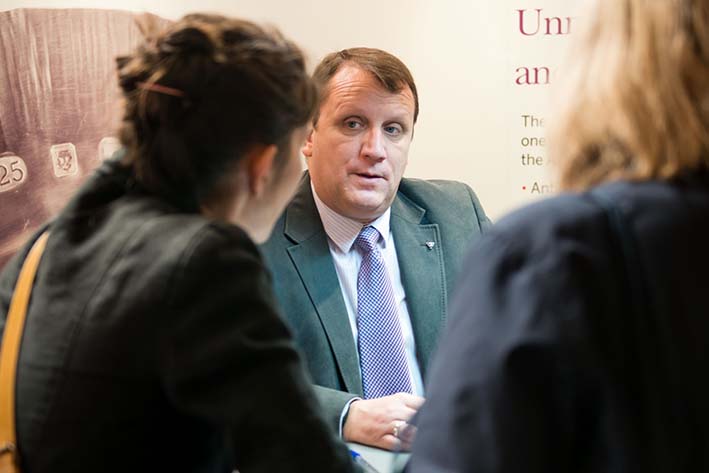 Adam Phillips
Account Manager
Many of our customers will have spoken to our Account Manager, Adam Phillips. Adam has been working at the Assay Office for 21 years.
Describe a typical working day. 
Busy, engaging and varied. Overseeing multiple departments and maintaining the turnaround times our customers desire, and which we want to give, is hard work but rewarding.  I liaise with customers about the hallmarking process, often finding solutions to any problems they have and helping them to maintain their schedules. Occasionally I get time to go back to the work bench, where I do help out if we are busy. I especially enjoy going back to my favourite job on the bench, which is Handmarking.
What's the best thing about working at the LAO? 
The history and tradition that we are part of and the fact that we are doing something that will be looked at in hundreds of years' time. 
What is your top tip for customers who are sending in items for hallmarking?
Be precise about the mark you want. Understand what type of mark you are asking for and if it is indeed appropriate.  
What's your favourite fact about hallmarking? 
Just having a 750 or a 925 stamped on an article is NOT a hallmark. I've lost count of how many times people find out my job and tell me that their piece of jewellery is hallmarked because it has those numbers on it!
What has been your most memorable moment here? 
Becoming a Freemen of the Company and the City. To be part of this wonderful city's tradition and expanding my horizons within the Livery movement has been most memorable.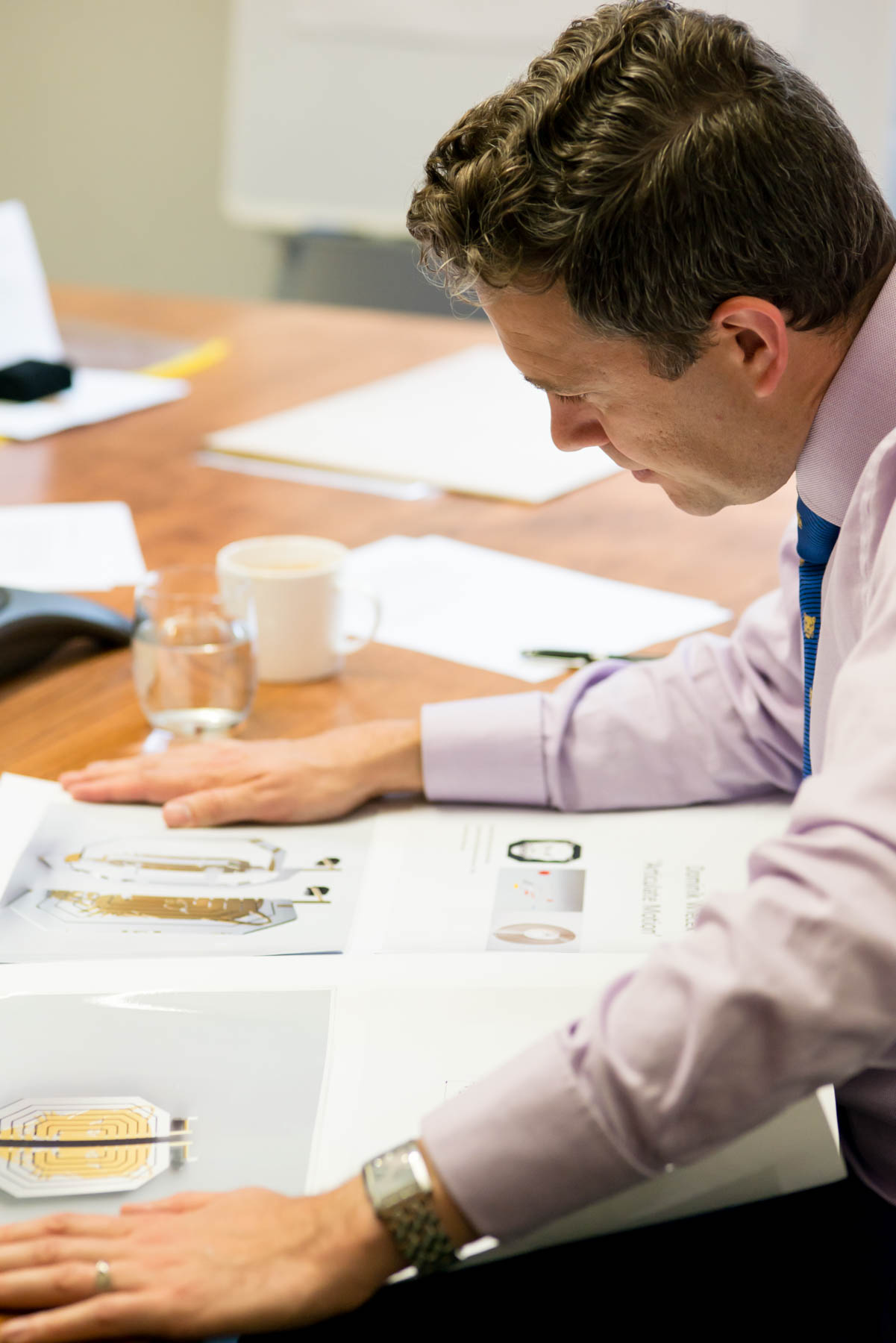 Read Adam's Q&A about Creative Hallmarking here. 
Michael Cassidy
Production Manager
Michael Cassidy joined us as Production Manager in Autumn 2015.  
Michael previously worked as Factory Manager for a print firm and is used to the demands of a busy environment like the Assay Office. 
Describe a typical working day
I'm usually in early to get organised,ensuring that we're on schedule for all our deliveries and dealing with queries. I spend a large part of my day working with my supervisors and staff on improving quality and service. At the end of the day I like to see that we've met all our challenges.
What's the best thing about working at the Goldsmiths' Company Assay Office?
Variety – no two jobs are ever the same, no two days are ever the same.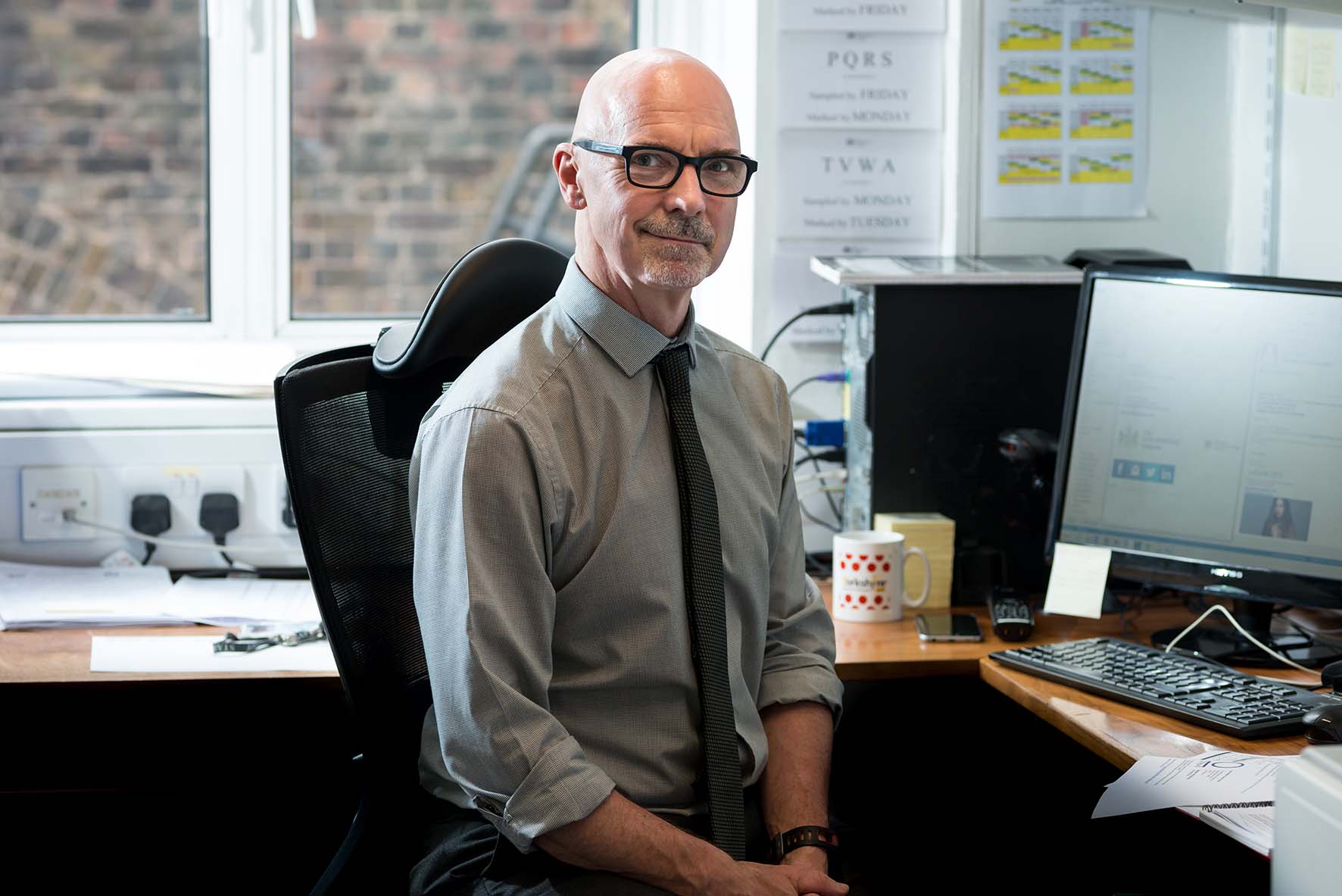 What is your top tip for customers who are sending in items for hallmarking?
Imagine we're Martians – instructions can never be too precise!
Charlotte Turner
Marketing Manager
Starting in 2015 Charlotte is a relative newcomer to the team, but would visit the Assay Office, and Goldsmiths' Fair in her previous job working for a jeweller.
She loves the trade, and studied for a City & Guilds level 2 certificate in jewellery design and craft.
Photographed here during the Lord Mayor's Show on a wet November day, she is always up for a challenge!