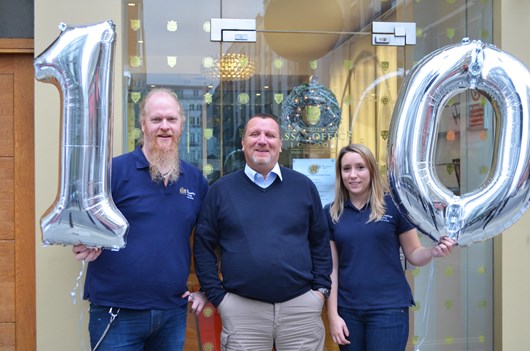 This week the Goldsmiths' Company Assay Office celebrates the tenth anniversary of its Greville Street Sub-Office in the heart of Hatton Garden.  
Like all good birthday parties, the celebrations kicked off with cupcakes and balloons!  Andy Waker, Manager of the Sub-Office crossed to the other side of the counter and chatted with his customers.  Alex Palmer, Counter Logistics, reminisced about the past decade calling the opening of the office "the best decision the London Assay Office has ever made".
Noting how time flies when you're having fun, Andy recognised that the sub-office has gone from strength to strength and has become a key cog in the Hatton Garden machine.  "We've grown along with many of our customers – I love to hear how they are doing, and strongly feel the pulse of the trade here." Alex agreed, remembering that the Hatton Garden community took to the office very quickly.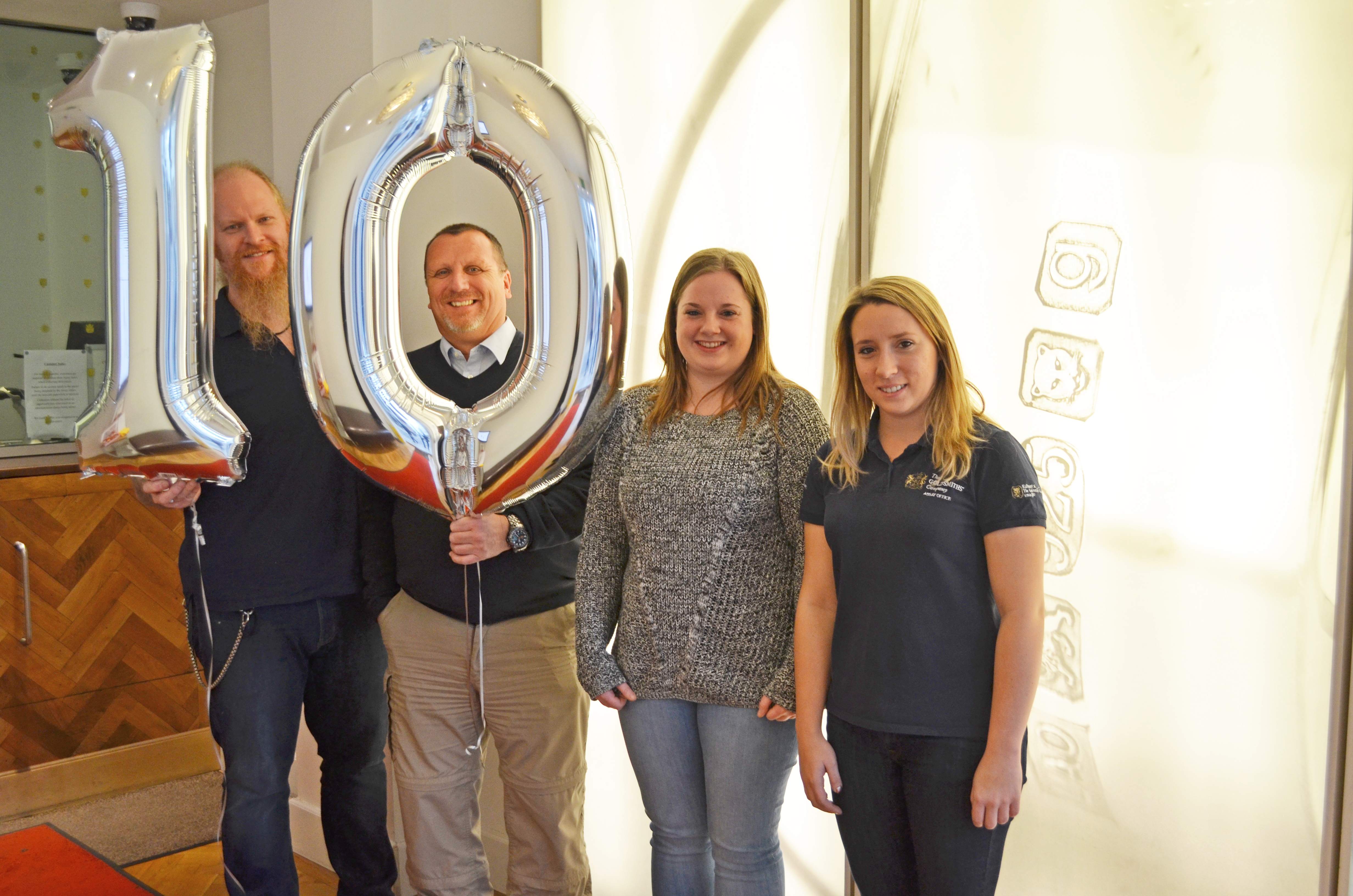 In the small premises of number 17 the team of 5 cover the entire assay and hallmarking process. The way they are set up means the team are cross-trained, and customers receive personal service wherever possible. "We all enjoy the "village feel" of Hatton Garden, and customers have even called Alex here 'the face of the Garden'!" said Andy. 
He continued "We are proud to put the finishing touch on some real jewellery masterpieces. Being situated in the heart of the London jewellery quarter means we see exquisite workmanship, and feel part of the whole process from bench to customer. We are part of the unique hub that is Hatton Garden."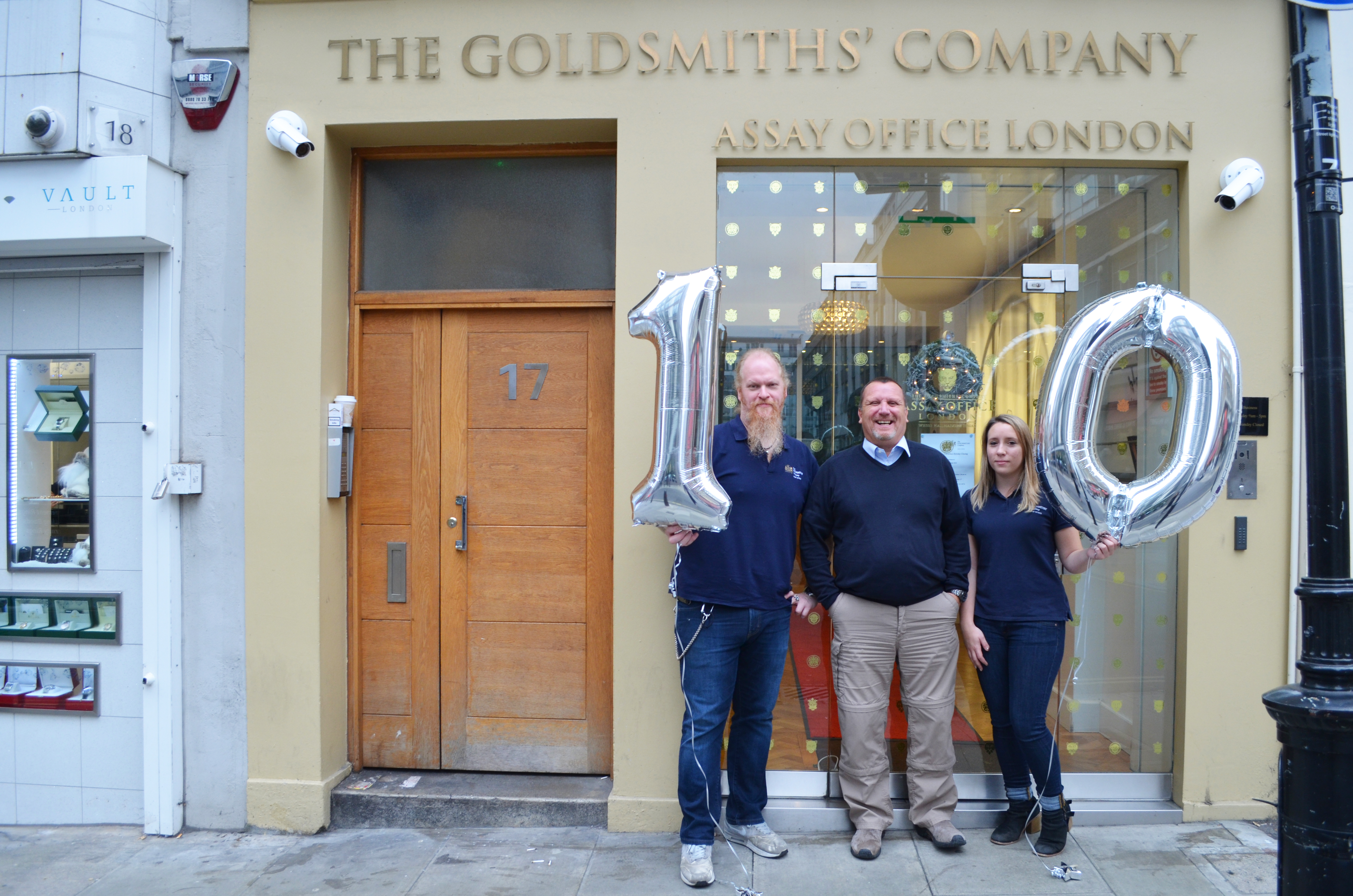 The first cake was picked up by Geoff of Patrick Wyatt- as he tucked in commented how the office works so well because of its proximity to their workshop, and the speed and quality of service.
Mark Walker of  J M Asscher called by and mentioned that he always receives "a superb service – the fact it's in the Garden makes it all the better for us."
A representative from Bibs Polishers called by and noted that the team provide a "Great service, they always look after me". 
Opened in December 2006, Greville Street was the first off-site sub office set up by the Goldsmiths' Company Assay Office.  This bespoke hallmarking facility was designed to provide a local convenient service for the Hatton Garden Community and those who regularly visit the area.  Since day one, the service has been tailored specifically for small quantities (up to ten articles), allowing fast turnaround times.   
Dr Robert Organ, the Deputy Warden of the Goldsmiths' Company Assay Office, said, "I would like to thank all of our customers for supporting us over the last ten years.  It is hard to believe that we have been in Hatton Garden for a decade already.   From the wonderful feedback we have received, it has been clear that opening this office is one of the best decisions the Goldsmiths' Company has ever taken.  I would also like to thank Andy, Alex, Maxine, Kheni, and Lesley for their excellent teamwork, and others who have worked there over the decade."