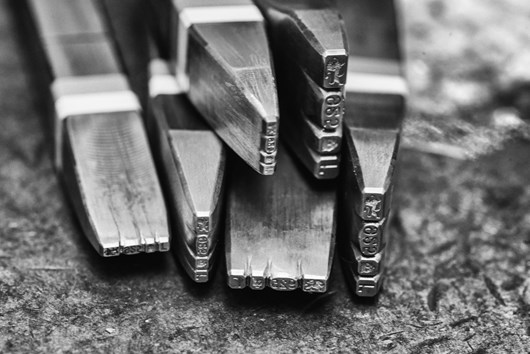 This week the Goldsmiths' Company Assay Office celebrates the tenth anniversary of its Heathrow Sub-Office within the secure premises of Brink's Global Services, at Heathrow Airport.  
Like all good birthday parties, the celebrations kicked off with a cake!  Between bites Kevin Bowles, Heathrow Sub-Office Manager, said, "Setting up the facility in partnership with Brink's secure logistics services has proven to give unrivalled efficiency and security for a decade. I'm really proud of that, and my team here."
In the secure premises the team of 11 cover the entire assay and hallmarking process.  Opened in January 2008, the office was set up as a response to the fact that there was an increasing amount of jewellery being imported into the UK.   The Goldsmiths' Company Assay Office was undergoing a major modernisation involving a series of initiatives which aimed to give customers the very best service in hallmarking with the aim to help them achieve success as they face up to the realities of the modern jewellery industry. 
Users of the Heathrow Assay Office include the world renowned Tiffany & Co. "We hallmark some of the giants of the trade and are very proud of that.  They are attracted by the service and speed that we offer. Customers using our facility benefit from a considerable cost-saving as the delivery time from manufacturing to retail site has been halved, so they can now hold less stock than previously."
Dr Robert Organ, Deputy Warden of the Goldsmiths Company Assay Office remembers "We were the first through-packet service provider to the trade, and we've stood the test of time at Heathrow. We have proven the benefits to some of the most established and demanding brands in the business. The clear benefits, the security, the onward distribution, the cutting-edge hallmarking technology, and of course Kevin and his team make for an untouchable offer."
The 700 year old Assay Office may be the oldest in the UK but the success of the sub offices indicates that it has not rested on its laurels.  The first off-site sub office set up by the Goldsmiths' Company Assay Office was their Greville Street office in Hatton Garden in 2006, and Heathrow followed 13 months later.  The Goldsmiths' Company Assay Office then expanded to open sub-offices within two London manufacturers - Allied Gold in Dalston, and Graff Diamonds in Mayfair.  This suite of offices provides bespoke hallmarking facilities fit for their local environment and customers; convenient, and tailored specifically to match their needs – timing, type of hallmarking, and quantities.